Canada Immigration 2023 Update
Canada Immigration 2023: News and Updates
Canada's immigration system helped the country significantly as to what it is today. The country relies heavily on immigrants. The Canada Immigration 2023 update has brought more excitement to the immigration system, including aspiring immigrants, country economists, and even other countries. Canada believed that their immigration system is the main factor that will help them achieve their focus – economic recovery.
Therefore, the Canadian government set bolder immigration targets outlined in their newly released 2022-2024 Levels Plan. Canada has set an even higher bar by looking to welcome 451,000 new immigrants by 2024. The new plan will further help the country bring the immeasurable contribution of immigrants across all sectors of the economy.
Published on February 17, 2022
Canada Immigration 2023 News
On February 14, 2022, Immigration, Refugees and Citizenship Canada (IRCC) released a new announcement on its new immigration plan. The focus is to address Canada's labor market shortages and grow the country's economy. The Minister of IRCC laid down their 2022‒2024 Immigration Levels Plan, chartering an ambitious path for Canada's immigration.
Canadian Immigration believed that now, more than ever, immigrants will be a key to Canada's continued success. Last year, Canada welcomed 405,000 new permanent residents, the most immigrants in a year in the country's history. However, there are still thousands of positions waiting to be filled in all sectors, despite the many jobs regained. Additionally, with five million Canadians retiring by the end of this decade, the worker to retiree ratio will drop down to only 3:1.
The Canadian Immigration Levels Plan 2022-2024 is increasing its immigration targets again. It sets to welcome almost 432,000 new immigrants this year instead of its initial plan to welcome 411,000 newcomers. The latest Canada immigration 2023 target is to continue welcoming immigrants at a rate of about 1% of Canada's population, including 431,645 permanent residents in 2022, 447,055 in 2023, and 451,000 in 2024.
The new Immigration Levels Plan will be welcoming the highest levels of new immigrants each year, the highest levels in the country's history. Below, we outline the summary of this new Immigration Levels Plan.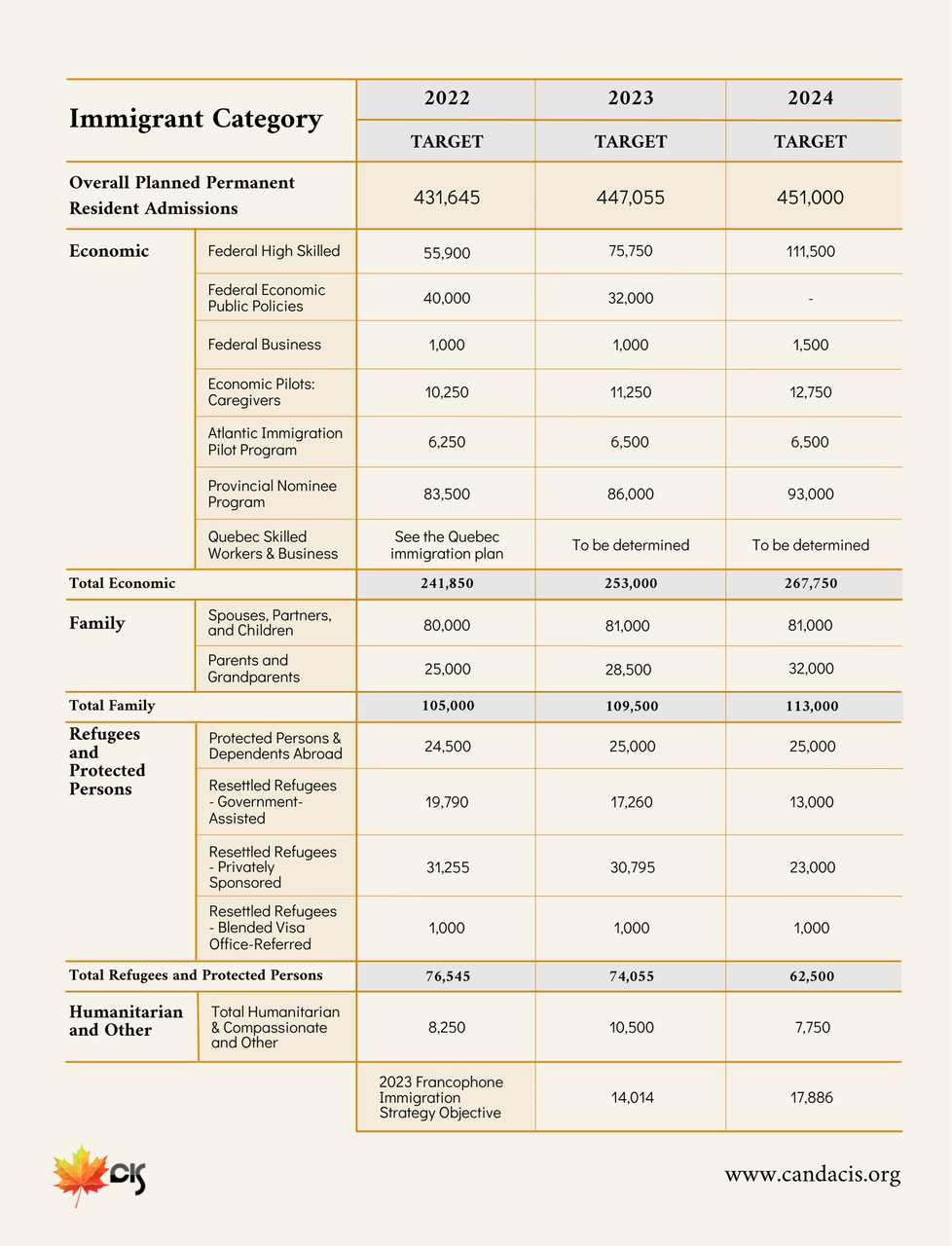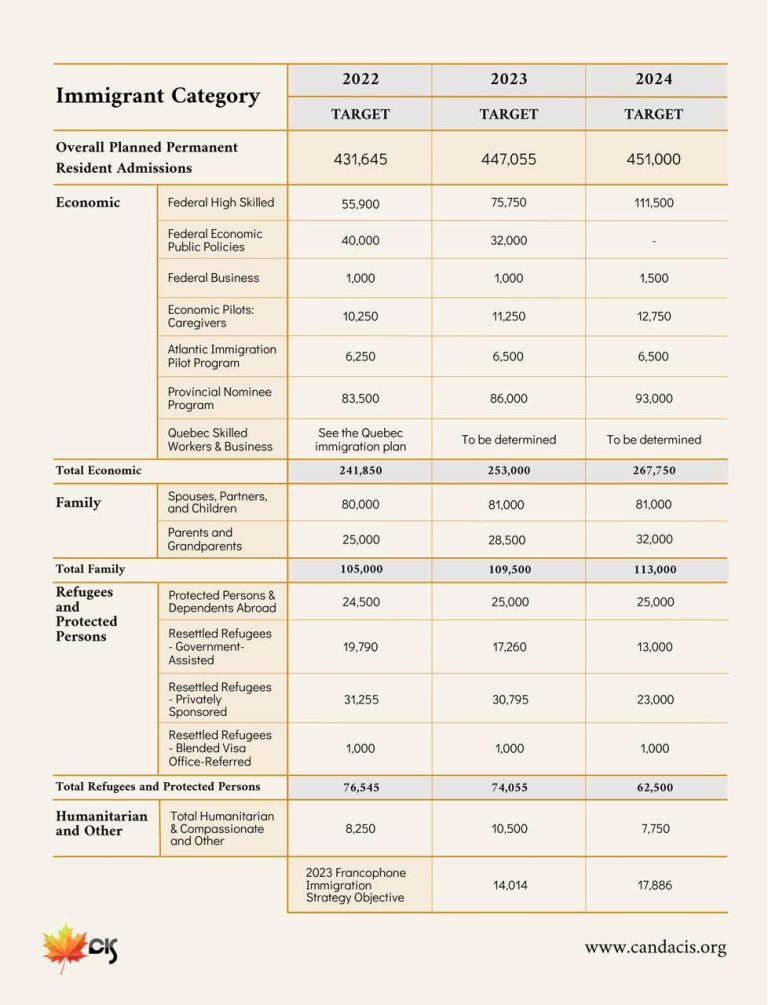 Canada Immigration 2023 Update: Highlights for 2021-2023
Increase in the number of Canadian immigrants between 2021 and 2023 to fill the shortfall of 2020


Acceptance of 500 refugees between 2021 and 2023 through Economic Mobility Pathways Project


Focus on digital transformation: aiding the immigration process and streamlining PR approvals


Eligible asylum seekers Permanent Residency: basing on their active contribution to the front line between March 13 and August 14, 2020


The Permanent Residency routes: Federal Skilled Worker Program, Federal Skilled Trades Program, and Canadian Experience Class



A new stream introduction: for 250 humanitarian workers, journalists, and human rights advocates
Canada Immigration 2023 Target: Are international students taken into account?
The ambitious immigration plans of Canada for the coming years are great news for skilled workers, but will it as great for international students? More than one-third of students are eyeing Canada as their top study destination. International students can temporarily stay in Canada to work. The duration of the permit corresponds with the length of the study program, which usually runs from eight months up to a maximum of three years.
International students don't automatically lead towards a permanent settlement; they should apply for Canadian immigration. The most popular route for them is the Express Entry route, where a Canadian degree and work experience increase their eligibility for permanent residency. The PNP program is the next best route for international graduates who didn't make the cut for Express Entry. The figures released under the Immigration Levels Plan show that Canada is determined to grow its population with skilled immigrants, and international students can fit into several permanent resident categories.
Canada Immigration 2023 Update on Immigration Rules
Canadian Immigration rules keep changing, making it necessary for you to stay updated. To help you streamline the process of immigration, you need to know the latest guidelines if you are planning to immigrate to Canada between 2021 and 2023. 
A 90-day timeline

: allowance for immigrants to provide complete visa applications for permanent residency

 

Quebec Immigration

 application changes  

The immigration processing fees from January 2021 onwards are higher than before. Foreign Student Program and Quebec Experience Program applications must be submitted electronically: paper applications will not be accepted.

 

International students


The new guidelines include safe entry protocols to Canada. It states what foreigners must know and follow before leaving their country of origin to immigrate to Canada. It strictly prohibits every international student and accompanying guardian from boarding a flight if they have COVID symptoms. They must also undergo a health check upon arrival in Canada. Additionally, they must go through a two weeks quarantine.
Do you have questions about all these Canada Immigration 2023 updates and rules? Feel free to reach out to us, and we will be more than glad to discuss your concerns and help you get a smooth immigration process. And even assist you until you land in your dream destination, Canada.
Learn more about immigration to Canada: