Express Entry Canada: Tips to Improving Your CRS Score
What is the Express Entry System of Canada and the CRS Score?
Express Entry Canada is an online immigration system to rank immigration applicants. It is a pathway designed for foreigners seeking permanent residence in Canada through merit-based points: based on their qualifications, experience, and work status in Canada. The more points you get, the more likely you will receive an invitation to apply (ITA) for a Canadian Permanent Residency.

The point system used in the express entry system is called the Comprehensive Ranking System (CRS). The score assigned to each candidate is the CRS score.
Published on February 9, 2022
How Does the Express Entry System Work? Overview
There are three immigration programs in this system:
requirement – with work experience in Canada

skilled workers with three years of work experience in the relevant field
for skilled workers with foreign work experience

must be eligible in terms of education and other qualifications set in this program
for skilled trade qualified workers 

requirement – a valid job offer or a qualification certificate
The following are the basic requirements to qualify for the Express Entry System.
You must be under the age of 30

Must have at least one year of continuous full-time work experience in a skilled occupation within the past ten years

Possess a least of Canadian Language Benchmark (CLB) seven in English or French, as determined by an authorized language examination.

Must have post-secondary education as per Canada's education system standards
The mentioned criteria are just the basic, not a guarantee to get an invitation. You will have to work on your CRS Score to get an invitation to apply (ITA); the higher your CRS score, the better chance to get an ITA.
The Comprehensive Ranking System (CRS) score is used by the Canadian Express Entry system to score candidates who apply through the federal government's skilled worker programs, as mentioned above. It helps Canadian immigration to select the best immigration candidates.
The CRS score is subdivided into four different sections as shown below: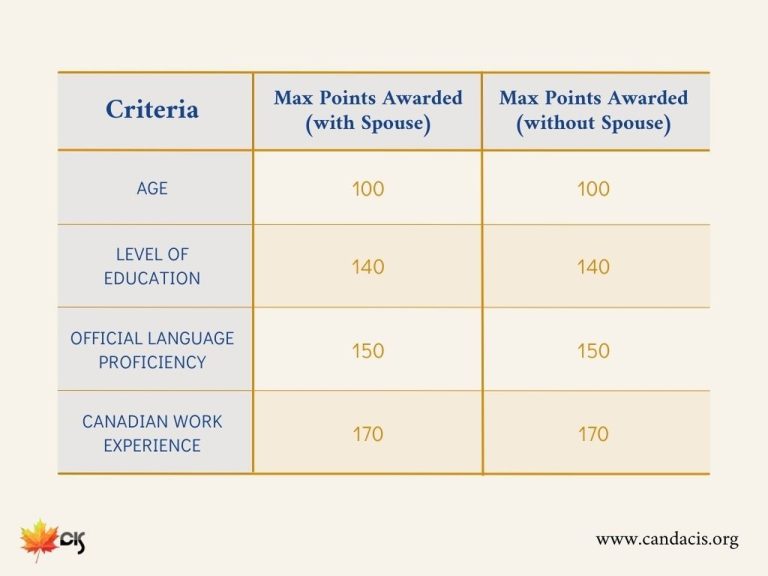 Section B (Spouse or Common-law Partner)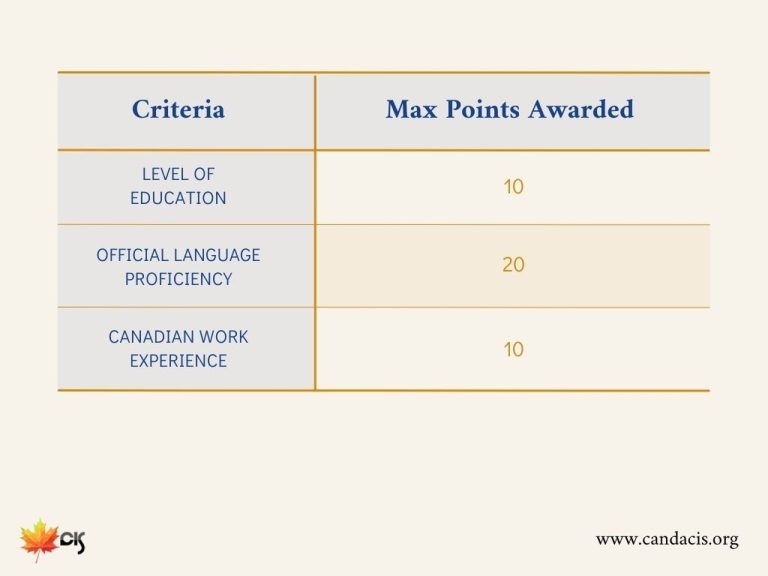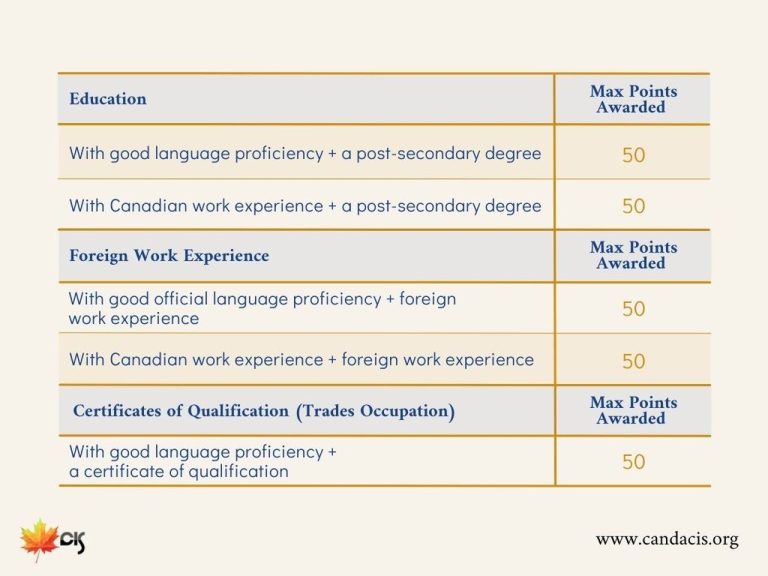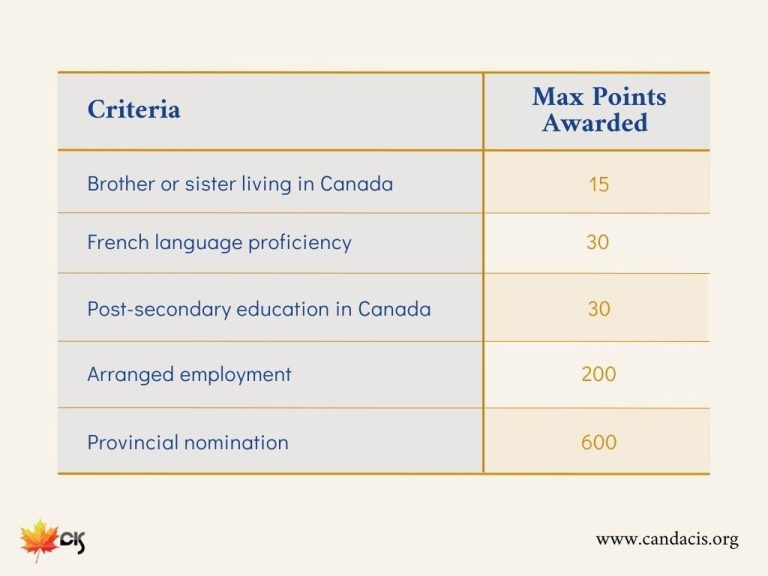 Tips to Improving Your Express Entry CRS Score
Tip #1: Avoid focusing on just one CRS score factor.
Maintain a long-term viewpoint. Most unsuccessful candidates choose to focus on just one factor instead of improving their skills in all varieties of areas.
Tip #2: Receive a nomination from a specific Canadian province.
A provincial nomination is the fastest route to getting 600 points in the Express Entry system.
Tip #3: Get a job offer from a Canadian employer.
If you have a job offer from a Canadian employer, it can boost your CRS score by up to 200 points.
Tip #4: Increase your educational background to Canadian standards.
It should be recognizable through an Educational Credential Assessment (ECA); adds you an additional 50 points.
Tip #5: Apply with your spouse.
If you have a spouse or partner, it is best to apply together. It increases your chances of express entry eligibility. Your spouse's education level and work experience in Canada can get an additional 10 points each, a total of 40 points added to your CRS score.
Tip #6: Boost your work experience.
Tip #7: Increase your score in Language Test Results.
Tip #8: Learn the French Language.
Learning the French language gets you more points. French-speaking candidates receive an additional 25 points. Or 50 points if you are proficient in both – French and English.
Tip #9: Sibling or Relative in Canada
Take advantage of it: the relationship can be through blood, adoption, marriage, or common-law partnership. If you have any, just prove the relationship, and it is an increase of 15 points to your CRS score!
Tip #10: Stay updated with the Express Entry immigration system.
Changes to the Express Entry system can happen every six months or so. It is good to keep yourself up to date with the news on Express Entry's latest lowest minimum Comprehensive Ranking System score.
There are several strategies to improve your CRS score in the Express Entry system: for better chances of receiving an ITA. Nonetheless, ample preparation and proper guidance from the experts can help you. If you need help, CanadaCIS can advise you on the most effective strategy to boost your points and qualify for the next Express Entry Canada invitation.
Learn more about immigration pathways in Canada: