How to Pass the IELTS Exam and Open doors to Canada
DID YOU KNOW?
Passing IELTS with a high score can actually help you boost your CRS score for Express Entry!
Demonstrating your English abilities to Immigration, Refugees, and Citizenship Canada (IRCC) is one key to gaining a Canadian visa. Passing the IELTS Exam is one way to do it. IELTS is one of the world's most popular English language tests, the top English test of choice of employers across Canada. Top universities in Canada and many professional associations that have set minimum language requirements for professional registration accept IELTS.
Moving to Canada from your home country can be your most beautiful experience and may even be your biggest accomplishment in life. Hence, passing the IELTS exam is preparation-worthy. This article will discuss everything you want to know about IELTS and the best preparation for your IELTS Exam.V
Published on December 3, 2023
🍁 IELTS Meaning: What is IELTS?
The International English Language Test System or IELTS is an English language test for study, migration, or work. IELTS was co-created and jointly managed by the British Council, Cambridge Assessment English, and IDP: IELTS Australia. It uses a nine-band scale to identify proficiency levels, from Non-user (Band Score 1) to Expert (Band Score 9). There are more than 3million people who take the test every year.
Individuals who wish to move to a native English-speaking country must take the IELTS exam. It is to test the English language proficiency of non-native English speakers. IELTS is accepted worldwide by employers, universities, schools, and immigration bodies. The government of Canada utilizes IELTS as their most recognized English language test.
There are two categories available under IELTS:
Academic:

 For individuals applying for higher education or professional registration.

General Training:

 It is for individuals who want to immigrate to Canada, the UK, and Australia.
There are four sections used to check a candidate's proficiency: Speaking, Listening, Reading, and Writing. 
The candidate completes the Reading, Listening, and Writing sections without breaks on the examination day. The candidate has one week to complete the Speaking section; before or after the examination day of the other tests. 
👂 Listening
📚 Reading
✍️ Writing
🗣️ Speaking
👂 Listening
Duration: 30 minutes.
The candidate listens to four recordings then writes their answers to a series of questions.
📚 Reading
✍️ Writing
🗣️ Speaking
📝 How To Register for the IELTS Exam Canada
There are two ways that you can register.
Online Registration

Registration Steps to complete:
Complete the

Online Registration

Provide your proof of identity. It can

 

be a valid, original passport or Canadian Permanent Resident Card (PRC

)

 with your photo and signature. It should show your full name in English and your date of birth. (The document upload must not be larger than 1600 X 1600 pixels and less than 1.5MB. Only accepts JPEG, GIF, or PNG files.)

Must pay the Test fees in full through Online Payment Link

. (accepts Visa, MasterCard, or debit card.) You must make payment within 24 hours to secure a seat as they are on a first-come, first-served basis. 
You should complete the above steps, and if any step is missing, you will not get a test date confirmation. Your online registration comes with a 30 Days Free Online IELTS Preparation.
Paper-Based Registration

Registration Steps to complete:
The candidate must complete the

IELTS Application Form

. You must write clearly and legibly and do not leave any field blank; write N/A for not applicable areas.

Choose a preferred test date and an alternate test date. Registration is on a first-come, first-served basis and does not guarantee that you get your first-choice test date. If your chosen test date has reached maximum capacity, your application will be put forward to your second choice and so forth. 

Provide your proof of identity. It can

 

be a valid, original passport or Canadian Permanent Resident Card (PRC) with your photo and signature. It should show your full name in English and your date of birth. 
Mail the completed application, identification copy, and payment to IELTS main office. You can pay through money orders and certified cheques, but personal cheques are NOT accepted. 
📑 Tips to Passing the IELTS Exam
Many find the IELTS exam intimidating. However, all you need to be confident in taking it is helpful information and good preparation, and you can pass it with flying colors! Check the following useful tips to pass IELTS.
🖊️ IELTS Exam Day: Pieces of Advice
You have prepared enough, so be confident and ace the IELTS exam day! Please take note of the following last reminders and bits of advice.
Get enough sleep and eat right.

Just wear loose, breathable clothing before heading to the test center, formal attire is not a requirement for the test, so it's best to feel as comfortable as possible.

Make sure to hydrate! You can bring a transparent bottle of any non-alcoholic beverage of your choice. 

Arrive early. Latecomers may not be allowed to enter the test room.

The listening, reading, and writing portion of the test will be about 2 hours and 30 minutes long, so try to limit your liquid intake and head to the bathroom right before entering the test room. 

Phones are prohibited inside the testing room to prevent distraction or cheating among test takers.

Prepare pencils and pens to use during the test.

Don't forget to bring your valid ID! 

Stay focused and relaxed. 
The preparation process and the actual IELTS Exam may appear overwhelming, but it is worth taking and passing. Many doors of opportunity can open for you when you pass the IELTS exam, including doors to your dream place, such as Canada.
The good news is you can take the IELTS exam as many times as you need to pass it. However, you have to pay every time you take the examination.
 So, it is best to pass it during your first take. Good luck!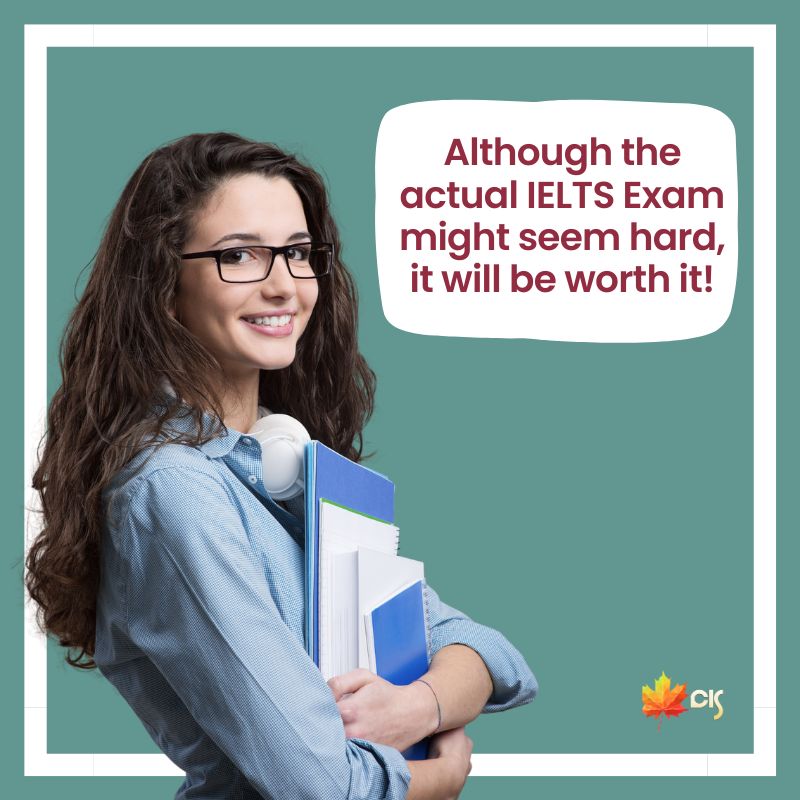 💯 How Can IELTS Affect Your Chances of Immigrating to Canada?
The International English Language Testing System (IELTS) is a standardized test that assesses English language proficiency. For immigration to Canada, IELTS scores are often a crucial component, and they can significantly impact your chances of being accepted into various immigration programs. Here's how IELTS can influence your immigration prospects:
Express Entry System:
In the Express Entry system, language proficiency is a key factor.
Your IELTS scores contribute to your Comprehensive Ranking System (CRS) score, which determines your ranking among other candidates. Higher scores can increase your chances of receiving an Invitation to Apply (ITA) for permanent residency.
Language Proficiency Requirements:
Many Canadian immigration programs have language proficiency requirements. Achieving the minimum required IELTS scores is essential to meet these requirements.
Different immigration streams may have varying language proficiency score requirements, so it's important to check the specific requirements for the program you're applying to.
Job Opportunities:
In some cases, employers in Canada may require proof of language proficiency as part of the hiring process. Having strong IELTS scores can enhance your employability and increase your chances of securing a job offer.
Canadian Language Benchmark (CLB):
The CLB is a standard used in Canada to describe language ability. IELTS scores are mapped to the CLB levels. The higher your IELTS scores, the higher your CLB level, which can be advantageous in the immigration process.
IELTS plays a significant role in your Canadian immigration journey, particularly if you're applying through Express Entry or other economic immigration streams. It's crucial to achieve the required minimum scores for the program you're interested in to enhance your eligibility and overall chances of success in the immigration process. Consider preparing thoroughly for the IELTS test to maximize your scores and improve your prospects.
Learn more about immigration to Canada: