How To Immigrate to Canada Without Language Test
Immigrating to Canada as a skilled worker requires you to prove your language proficiency, the usual practice. The IELTS (International English Language Testing Program) and CELPIP (Canadian English Language Proficiency Index Program) are the two official Canadian language tests used to test immigrant applicants for Canada. The language proficiency testing ensures that the candidate will be able to integrate sufficiently into the Canadian society, an English / French-speaking people. 
You can immigrate to Canada without a language test requirement; it is possible though rare.
Published on September 3, 2023
🛫 Top Immigration Opportunities That Don't Require a Language Test
Participating in the Young Professionals Program brings forth a multitude of benefits for young professionals seeking international work experience. Here are some of the advantages to consider:
You can immigrate through Family Sponsorship
If you have a relative who is a Canadian citizen or permanent resident, they can sponsor you to become a permanent resident in Canada. You don't need a language test to immigrate to Canada, in this case.
You must prepare enough documentation to establish your relationship with your sponsor. And your sponsoring relative must prove that they can support you financially as well. Sponsorship applications take approximately one year or longer to process – from start to finish. Once you become a permanent resident through family sponsorship, you can live, work and study in Canada.
It is the most effective way to immigrate to Canada without a language test. When you have a job offer, all you need to prove is that your language level is enough to perform your duties effectively. There are even jobs that do not require language fluency.
You can enroll in Language Courses
Enrolling in a language course is another way to immigrate to Canada without taking the language test. You can subsequently enroll in a full-time study program which will allow you to receive a Canadian study permit for up to three years. You will have enough time then; to complete your immigration and get permanent resident status in Canada.
You can immigrate through the Provincial Nominee Program
Several provinces under Canada's Provincial Nominee Programs (PNPs) have low language proficiency requirements or none at all. As long as you have work experience and can fill the in-demand occupations in that particular province, a language test would not be a requirement. Many Canadian provinces are willing to grant candidates their provincial nominations as long as they can see that the candidate can fill up the in-demand jobs with their proven work experience. The provincial nomination is your ticket to getting into Canada's permanent residency status.
One of the most significant provinces where you can choose to immigrate under the PNP program is the SINP (Saskatchewan Immigrant Nominee Program). The Saskatchewan province has exclusive immigration pathways for foreign nationals; who aspire for a Canadian permanent residency. The province operates different PNP streams that are divided into 3 categories: Saskatchewan International Skilled Worker, Saskatchewan Experience, and Saskatchewan Entrepreneur and Farm.
Do you need help immigrating to Canada?
Sign up and we will help you!
You are already in our system. Please wait for us to contact you or apply again in 1 hour. For urgent cases send mail to office@canadacis.org
🗣️ Moving To Canada Without A Language Test: Is It Advisable?
Honestly, you will be better with a language test because it gives you extra chances for successful immigration as it adds up to your score in getting an Invitation to Apply (ITA). Your language skill is significant for easy and successful integration with the Canadian community and life. You must be able to communicate properly with the locals, either in English or French.
One of the Canadian government requirements for foreign nationals applying to migrate to Canada is taking a language test: it can either be an English language test (IELTS or CELPIP) or a French-language test (TEF or TCF).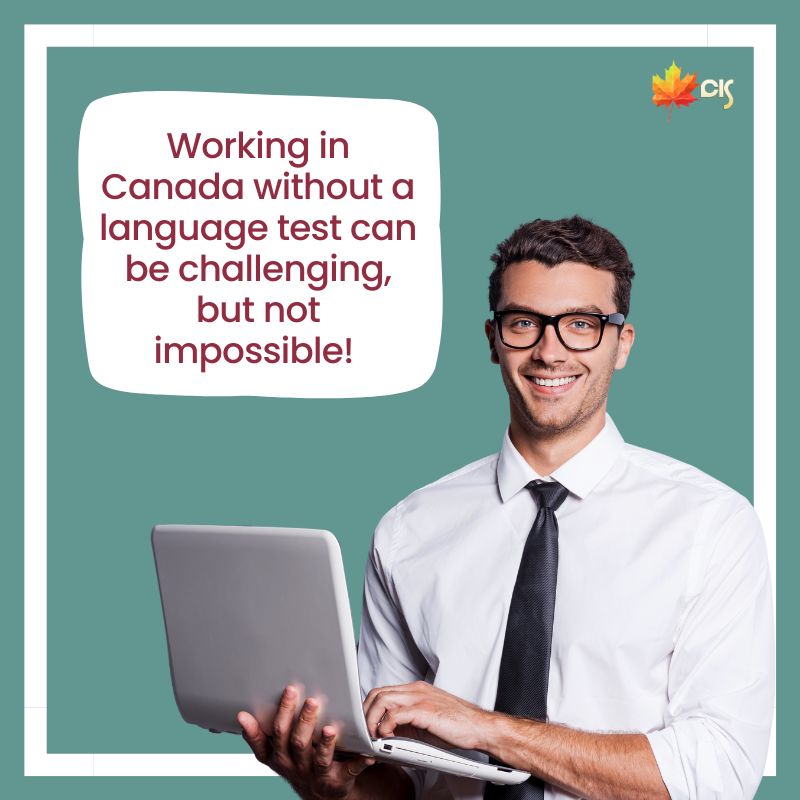 The language proficiency test is purposively integrated into your immigration requirement to test your capability of successfully integrating in Canada once you start living in the community.
📝 English Language Tests for Canadian Immigration: IELTS or CELPIP
We understand you did not want the language test. However, just for your stock knowledge and in case you will consider it, it is better that you are familiar with these two of Canada's authorized test providers in English: IELTS and CELPIP.
Results from these two English language tests, International English Language Testing System (IELTS) and the Canadian English Language Proficiency Index Program (CELPIP), are equally valued by Canadian immigration. Thus, if you decide to take any one of them, it is fine; it will be dependent on your convenience. Whichever test you decide to take, note that the results are only valid for two years.
It is an internationally available English proficiency test with many testing centers worldwide. The two categories in the IELTS tests are General Training and Academic. You should take the IELTS – General Training for your Canada immigration application.
The CELPIP test is by the IRCC, which focuses on Canadian English, containing elements of British English, American English, and Canadian accents. The General Test and the General LS Test are the two types of CELPIP tests. You must take the CELPIP – General Test for your immigration application. The CELPIP Test is available within Canada, India, Singapore, China, the United Arab Emirates, the Republic of Korea, the Philippines, and the United States.

Now, you may still be wondering, "is it possible to immigrate to Canada without IELTS or CELPIP"? The good news, yes, there are ways to immigrate to Canada for people with a low level of language skills. If you are wondering what other possible means could you go to immigrate to Canada successfully without having to go through the language test requirement, below are options that you can go through.
❓ Do you need help immigrating to Canada without a language test?
There are more options for doing it. The best way to find out your possibilities is to talk with an immigration expert, such as CanadaCIS. CanadaCIS has experienced immigration professionals consisting of lawyers and authorized immigration expert consultants who adhere to the highest standards of client service. We are here to help you!
Learn more about language exams for Canada: