How To Immigrate To
Canada from Spain
are welcomed in Canada each year
Are you from Spain and desiring to be one of these immigrants landing in Canada this year? Then this article is for you as we discuss how to immigrate to Canada from Spain here.
The number of immigrants from Spain to Canada is increasing in number year after year. So, it is time for you to get ready and join them in the land of the Maple leaf. Learn all you need to know about how to move to Canada from Spain now. Read on!
Published on December 6, 2023
✈️ Immigrate To Canada from Spain Pathways
There are several pathways to go to immigrate to Canada. We will discuss the five best pathways that you can utilize for your immigration to Canada from Spain.
immigrate through Canada's Express Entry

immigrate to Canada through the Provincial Nominee Program

immigrate through the Family Sponsorships program

You can immigrate with a Job offer

immigrate through the Occupation in-demand opportunity
Immigrate through Canada's Express Entry
Express entry is the fastest way to immigrate to Canada from Spain. Through this system, immigration applicants are ranked using the Comprehensive Ranking System (CRS) scoring. The CRS scoring is based on factors such as age, education, work experience, and language proficiency. You can choose among these immigration programs under Express Entry and create your profile in the system.
A federal skilled worker program

Federal skilled trades program

Canada experience class
There is a high demand for opportunities all throughout Canada for people moving to Canada from Spain. This awesome opportunity makes your decision to migrate to Canada a highly valid decision. We have listed a few of these job opportunities for you to immigrate through in-demand jobs found in Express Entry's eligible NOC Codes list, below.
Spanish immigrants have high prospects of getting a job in Canada. Canada has high regard for Spain's education system; hence, most of the job opportunities for Spanish people are in managerial and professional positions. Spanish people with strong English or French skills would usually get higher wages from Canadian employers. Several jobs are awaiting Spanish people in Canada; below are some popular ones.
Financial managers

Human resources managers

Purchasing managers

Other administrative services managers

Insurance, real estate, and financial brokerage managers

Banking, credit, and other investment managers

Advertising, marketing, and public relations managers

Telecommunication carriers managers

Postal and courier services managers

Engineering managers

Architecture and science managers

Computer and information systems managers

Managers in health care

Government offices managers 

Other managers in public administration

Administrators – post-secondary education and vocational training

Elementary and Secondary education school principals and administrators

Managers in social, community, and correctional services

Commissioned police officers

Fire chiefs and senior firefighting officers

Commissioned officers of the Canadian Forces

Managers for publishing, broadcasting and performing arts

Service directors for recreation, sports, and fitness programs

Corporate sales managers

Retail and wholesale trade managers

Restaurant managers
want to find out if you're eligible for immigration to Canada?
Immigrate through the Provincial Nominee Program (PNP)
The PNP is designed to help address the labor market scarcity of workers at the provincial level of Canada. You can choose to live and work in any of these provinces and submit your application accordingly. If you get a nomination from this province, your CRS score increases significantly by 600 points.
Alberta's AINP – Alberta Immigrant Nominee Program 

The BC PNP – British Columbia Provincial Nominee Program 

MPNP – Manitoba Provincial Nominee Program 

NBPNP – New Brunswick Provincial Nominee Program 

NL PNP – Newfoundland and Labrador Provincial Nominee Program 

NTNP – Northwest Territories Nominee Program 

NSPNP – Nova Scotia Provincial Nominee Program 

Ontario's OINP – Ontario Immigrant Nominee Program 

PEI PNP – Prince Edward Island Provincial Nominee Program 

SINP – Saskatchewan Immigration Nominee Program 

YNP – Yukon Nominee Program 
Immigrate through the Family Sponsorships program
The Family Sponsorship program is designed to unite families and live together in Canada. Canadian citizens or permanent residents who are at least 18 years old can sponsor their spouse or partner, dependent children, and relatives to immigrate to Canada. You must be able to prove that you can support those people you are sponsoring in moving to Canada from Spain. Meaning you can provide for their basic needs and live comfortably in Canada until they are capable of providing for themselves.
Immigrate through Canada Work Visa
A Canada work visa along with a job offer increases your immigration chances to Canada. It maximizes your CRS score in the Express Entry. Your chances of getting an invitation to apply (ITA) for immigration to Canada are high. For a job offer to be valid, it should be made by one employer. Additionally, a job offer should be for full-time work, at least thirty hours a week, and for at least one year.
💼 Do I Need A Work Permit To Get A Job In Canada as a foreigner?
Yes, in most cases, you will need a work permit to legally work in Canada as a foreigner.
A work permit is an official document issued by the Canadian government that allows you to work in the country for a specific employer and for a specific period of time.
There are some exemptions and special programs that allow individuals to work in Canada without an LMIA, such as the International Mobility Program (IMP) or the Working Holiday Program for certain countries.
NOTE: It's crucial to note that there may be changes in immigration policies and programs, and requirements can vary based on the type of work and the specific circumstances.
✔️ Moving to Canada from Spain: Requirements
The documents, forms, and requirements will differ depending on where would you want to immigrate to Canada and through which specific program. Generally, you will have the following prepared for your immigration application.
Biometrics

A medical exam (if applicable)

Police clearance (if applicable)

Language tests like TEF an

IELTS

ECA or Educational Credential Assessment (if applicable)

Your NOC (National Occupational Classification) code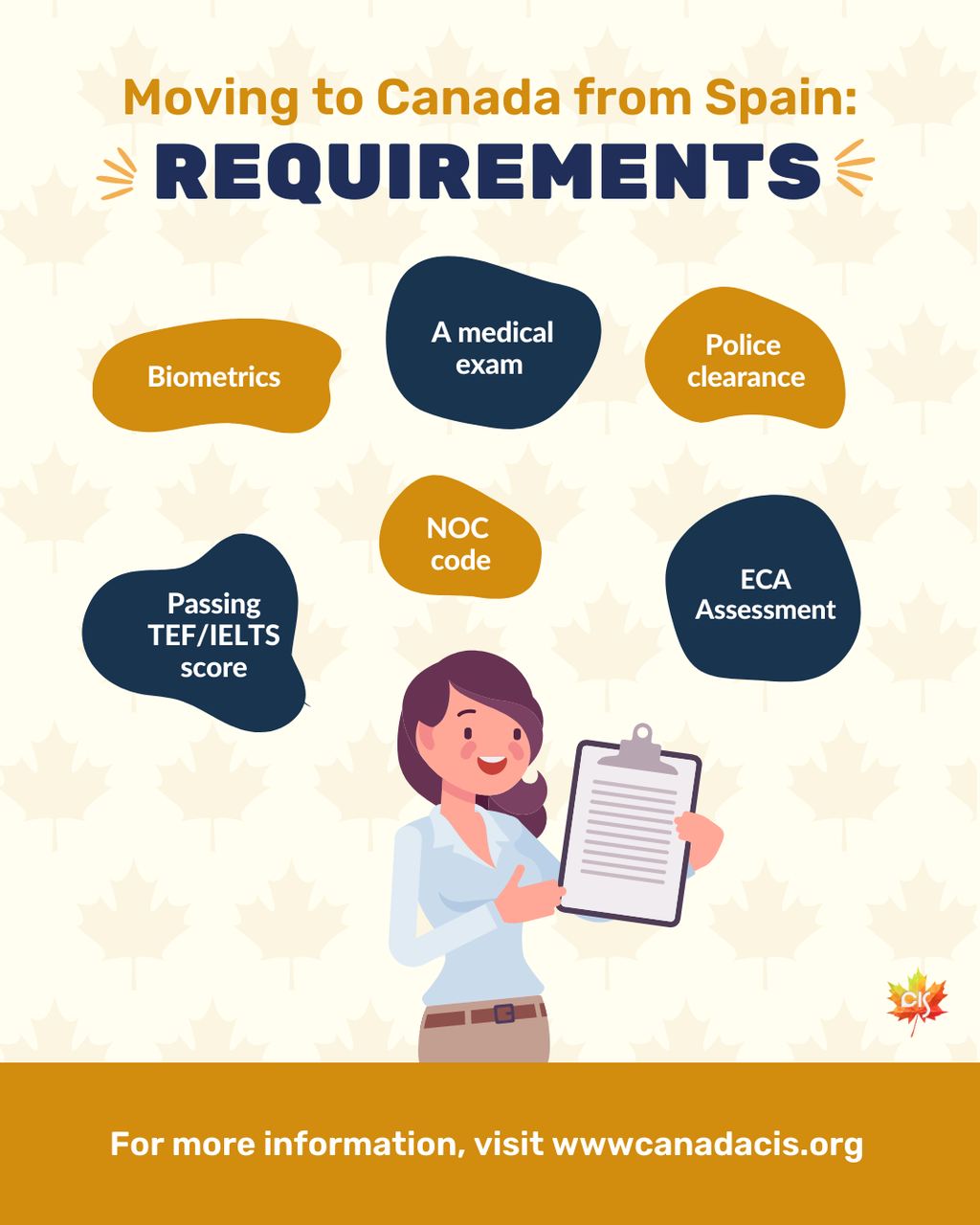 🔢 Steps on How to Immigrate to Canada from Spain
The Spain and Canada relationship has been cordial and positive. It gives Spanish people an easy process to immigrate to Canada from Spain through the different Canadian immigration pathways.
💰 How much does it cost to immigrate to Canada from Spain?
Generally, if you are moving to Canada as an individual, you will need around CAD 15,500. If you are a couple, you can prepare at least CAD 21,000, while families need to prepare around CAD 25,000 to CAD 30,000. Canada still has the most reasonable immigration cost compared to other popular immigration destinations.
❓ Spanish Immigration to Canada FAQ
Do you need help with your immigration application? CanadaCIS has experienced immigration professionals consisting of lawyers and authorized immigration experts. We adhere to the highest standards of client service, and we are here to help you!
Learn more about immigration to Canada: