immigration to canada for low and semi-skilled workers
🏅 Top 10 Low-Skilled Jobs in Canada
If you dream of working in Canada despite having little or no work experience, know that it is possible. Many people are choosing to live in Canada without the need to be skilled workers. Job opportunities in Canada depend on the Canadian economy and labor needs. To give you an idea of the top 10 low-skilled jobs in Canada for foreigners, we've listed them down with their average wages and requirements.
Published on September 3, 2023
👨‍🏭 Who Are Considered Low-Skilled Workers?
Low-Skilled Workers in Canada are considered to have work experience in the trades, primary and industrial sectors, sales and services, as well as specialized administrative and assistant jobs.
The Employment and Social Development Canada (ESDC) classifies semi-skilled employees as:
Skill Type C: Professions that typically need a secondary education or occupational training.
Skill Type D: Professions where on-the-job training is given.
🛬 Immigration to Canada for Foreigners
Unskilled and semi-skilled foreign workers contribute significant value to Canada, and the country welcomes them via different work permits and visa procedures. However, skill shortages are prominent in many sectors due to an aging population and a primarily skilled workforce. If you have no post-secondary education, no worries! You should still be able to find work in Canada.
Would you want to move to Canada and improve your quality of life? In the "Immigration Pathways for Work in Canada" section, you'll find the three simplest routes for unskilled workers who wish to immigrate.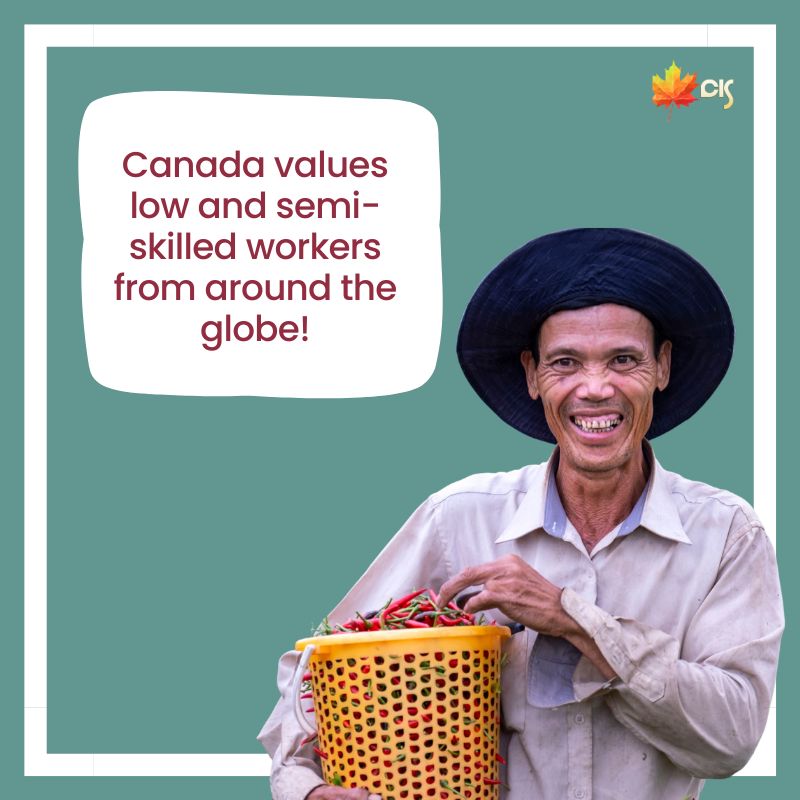 📝 Immigration Pathways for Work in Canada
The Provincial Nominee Program
This program was developed for foreign employees who have received a job offer and who want to move to Canada. The PNP offers the opportunity to migrate to any province of your choice, although requirements for each province may vary. Five popular PNPs for unskilled migrant laborers are:
Saskatchewan Immigrant Nominee Program (SINP): For agricultural, hotel and tourism workers, truck drivers, and trade workers.
Ontario Immigrant Nominee Program (OINP): For unskilled workers with job offers.
British Columbia Provincial Nominee Program (BC PNP): For entry-level low-skilled workers.
Alberta Immigrant Nominee Program (AINP) and Manitoba Provincial Nominee Program (MPNP): For farming and rural in-demand jobs.
The Agri-Food Immigration Pilot
The Atlantic Immigration Pilot
The Temporary Foreign Worker Program
🏘️ How to Apply for Permanent Residency as a Migrant Worker
For low-skilled workers, the Provincial Nominee Program is the most advantageous route to take because the Express Entry Canada system integrates with the Federal Skilled Worker Program, Federal Trades Program, and the Canadian Experience Class, all of which require some level of education or training.
You will need to meet several requirements, as well as acquire a sufficient number of points, in order to be considered qualified.
You will also be required to demonstrate that you have at least the bare minimal proof of funds by submitting a statement of bank balance.
These are just two of the numerous criteria that must be met to qualify for permanent resident status. However, keep in mind that obtaining permanent residency in Canada as a low-skilled worker will require several years of work experience in your field. In the meantime, it is best to apply for a temporary work permit with the possibility of renewal to gain enough work experience to qualify for one of Canada's immigration programs, such as the Provincial Nominee Program.
✔️ Benefits of Working in Canada for Foreigners
Although there may be small advantages for unskilled workers when it comes to working in Canada, it doesn't necessarily mean there are absolutely 0 advantages! 😉 Most of these benefits will actually be worth the move, such as:
People who get a Low-Skilled Worker Visa are permitted to reside and work in Canada for two years.
Under the particular employment offer, the Low-Skill work visa may be extended for up to 24 months of labor.
Working in Canada as a low-skilled worker provides career growth and work experience for when you apply as a skilled worker through any of Canada's immigration programs, eventually leading to permanent employment/residency.
It's common for a college diploma graduate to waste time in the first few years of their career by not gaining enough real-world experience. Unlike unskilled workers who are given firsthand tasks, this provides unskilled workers with better job opportunities.
📩 Application Process For The Young Professionals Program
🍁 Immigration Updates for Low-Skilled Workers
According to the findings of a Ryerson University research, Canada's low-skilled citizens should have a higher-volume route to permanent residency.
A policy brief from Ryerson University recommends that Canada do more to keep lower-skilled temporary residents in Canada. The CERC chair's paper on migration and integration was released as a request for proposals (RFP). The short-term migration strategy proposes that Canada implement a program that focuses specifically on unskilled temporary foreign workers who wish to apply for permanent residency.  Canada is also asked to implement new immigration rules that would protect foreign domestic workers from low wages.
Learn more about Jobs in Canada: