Do you need a degree to work in Canada
Best Canada Jobs Without a Degree
Canada has plenty of options for international workers, no matter what skill set or work experience one may have. Here are some of them:
Published on June 29, 2023
How to Immigrate and Work in Canada Government Without a Degree
Do you need help immigrating to Canada?
Sign up and we'll help you!
You are already in our system. Please wait for us to contact you or apply again in 1 hour. For urgent cases send mail to office@canadacis.org
Work In Canada Opportunities: Best Jobs for Foreigners Without a Degree
Not only do "in-demand" careers such as doctors, lawyers, and actors get paid well in Canada. Some of the best jobs in Canada are available even without a university degree.
Additionally, various Canadian immigration programs from different provinces/territories in Canada make it possible. We have listed some of these top Canadian jobs without a degree requirement. Check them out below.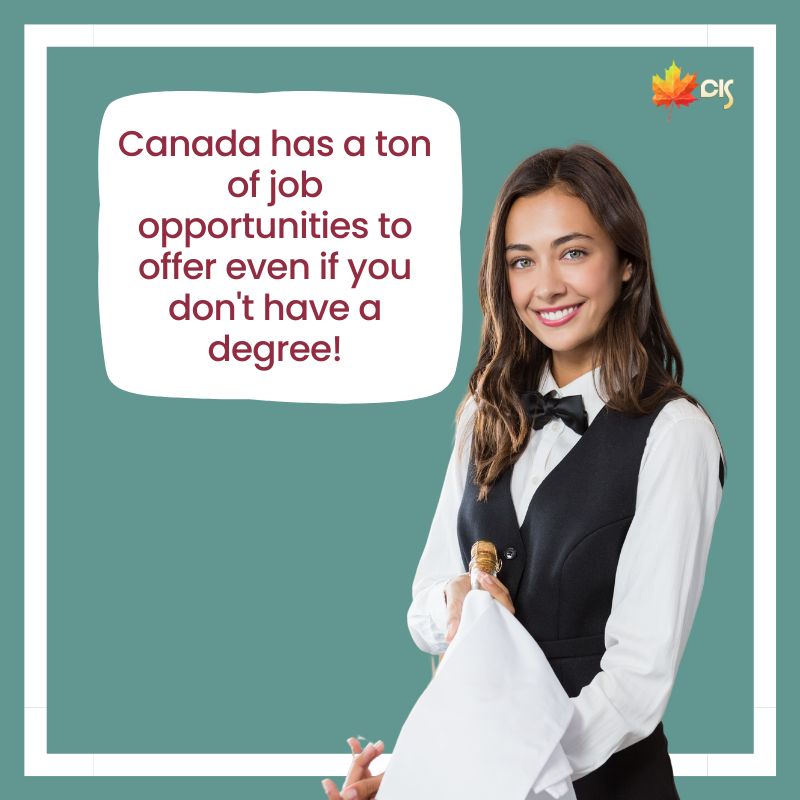 Transit Driver
Average salary: $31,968 to $72,264 Canadian dollars
Requirements: A high school diploma and a professional driver's license.
Land Surveyor
Air Traffic Controller
Web Developer
Realtor
Garbage Truck Driver
Plumber
Firefighter
Electrician
Automotive Service Technician/Mechanic
Executive Chef
Work In Canada Requirements: Immigration Programs for Non-Diploma Candidates
There are more than three immigration programs that candidates without formal education can choose from, but here at CanadaCIS, we have found the following to be the best: 
The Canadian Experience Class
The Canadian Experience Class is a program for skilled workers who have Canadian work experience and want to become permanent residents. It is probably the most common option for skilled workers that do not require a degree, but some of the other requirements include:
Meeting the language level requirements for your job such as writing, reading, listening and speaking

You will need at least one year of experience as a skilled worker in Canada. 
Federal Skilled Trades Program
The Federal Skilled Trades program provides skilled workers with the chance to become permanent residents of Canada based on being qualified in a skilled trade, even without a university diploma. Other requirements include:
At least two years of full-time work experience in a skilled trade within five years before applying. 

Must acquire a Canadian job offer of full-time employment for at least one year. 
The Family Sponsorship Program
If you don't have a job and plan to find one once you arrive in Canada instead, the option you should consider is The Family Sponsorship program. It allows you to reunite with your relatives and have them sponsor you for the chance to become a permanent resident.
There is some work in Canada requirements for several immigration programs. It can be age, education, work experience, language skills, income/funds, relations to Canada, etc. The best way to know whether or not you're eligible for Canada's immigration programs is to ask assistance from an immigration expert or schedule a consultation with an immigration consultancy such as CanadaCIS Canadian immigration experts can professionally review and assess your application for better chances of success towards immigrating and finding a job in Canada.
Do You Need A Degree To Work In Canada FAQ
Learn more about jobs in Canada: