International Experience Canada (IEC): all you need to know
yearly immigrants in Canada
But how is it possible for Canada to accept this huge number of immigrants annually?
Well, there are various programs to immigrate to Canada. It can be objective-based (e.g., live, work, visit, and study) or duration-based (e.g., permanent or temporary).
This article will discuss one of the temporary residency options called International Experience Canada; IEC from zero to hero. Let's get started! 😉
Published on September 3, 2023
👷‍♂️ What is International Experience Canada (IEC)?
International Experience Canada (IEC) is one of Canada's immigration programs that typical immigrants give the slightest attention to. Yet, it includes an efficient and lucrative set of temporary residency programs that you can take advantage of, especially when you are a careful decision-maker (or if you're generally adventurous).
If you want to work or travel in Canada temporarily, IEC is your best go-to option. Eligible foreigners are authorized to apply for a Canadian work permit without having Labour Impact Market Assessment (LMIA). In addition, you are allowed to live and work in Canada for a maximum of 2 years. This is possible thanks to Canada's international agreement with multiple countries! See EIC Eligibility.
Keep in mind: there are plenty of high-paying jobs for foreigners in Canada – make sure to check them out!
The selection of applicants happens through a randomized draw system. Much like other immigration programs, not everyone who expresses interest is automatically granted an IEC Work Permit. Interested applicants should verify their qualifications depending on the program they opt for, not to mention Canada's agreement with their country of origin.
There are three types of programs under IEC. These are Working Holiday, Young Professionals, and International Co-op.
Working Holiday Program
To have the freedom to work in Canada as you travel and explore the country is the primary goal of this program. This is ideal if you want to have complete travel plus work experience or fund your trip. Successful applicants will have an open work permit which enables them to find their employer. With this permit, you have the flexibility to change employers and jump from one location to another.
Typically, you don't need a job offer to be eligible for the program. But because of the pandemic, all applicants must have a valid job offer. In addition, some employers may require a medical examination.
Young Professionals Stream
This program is perfect for young foreign nationals who want to have professional work experience in Canada. Individuals under this program are given an employer-specific work permit. This means you are not allowed to change your employer nor jump locations during your stay in Canada.
A job offer is required to be considered for this program. You must also have National Occupation Classification (NOC) Skill Level 0, A, or B. NOC Level C may qualify if presented with a post-secondary diploma, certificate, or degree.
International Co-op or Internship
If you're a student seeking an internship abroad, this program is for you. Similar to the Young Professionals Program, successful applicants under International Co-op are given employer-specific work permits.
You must be a student currently enrolled in a post-secondary institution or university to be eligible for this stream. In addition, a valid job offer for a work placement internship in Canada is a must.
☑️ IEC Eligibility: Who can Participate in International Experience Canada Programs?
Suppose you have all the qualifications discussed in the three programs above. In that case, they will not be honored if you're not using any of Canada's Recognized Organizations (RO) or if your country of citizenship does not have an agreement with Canada. 
In addition, only IEC participants are eligible to join and apply for an IEC work permit.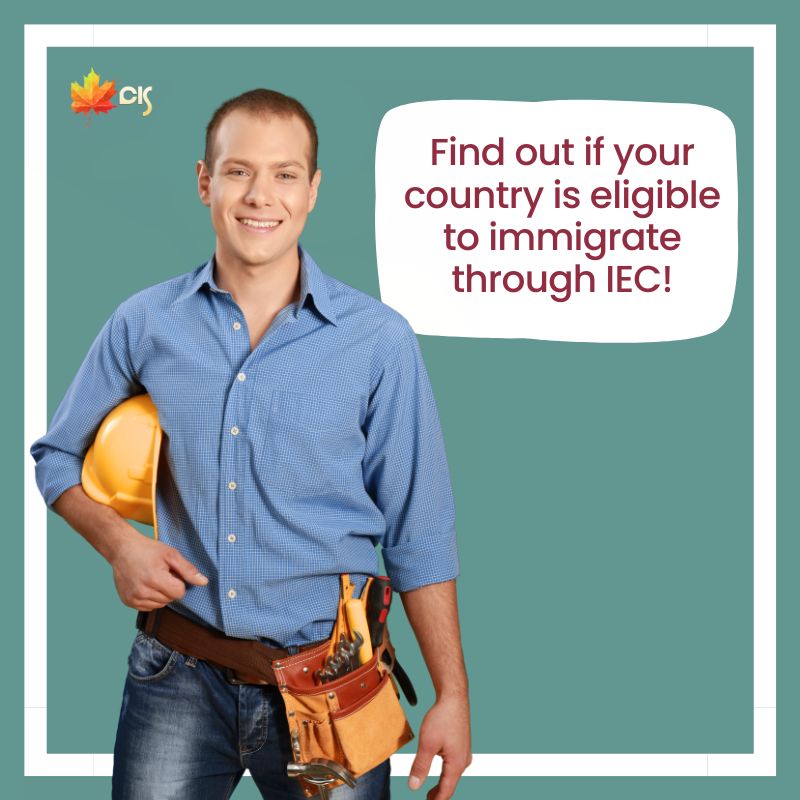 Recognized Organizations (ROs)
Using ROs is the only option for IEC applicants whose country of citizenship is not included in the participating list of countries above. Some of the individuals who belong to the participating countries consider using ROs for other IEC-related services.
Below are some of Canada's Recognized Organizations and their basic information.
Recognized

Organization (RO)

Description

Type of IEC

Age Requirement

Eligible Country

AIESEC Canada

A non-profit organization that aims to develop youth leadership

Young

Professionals

18 to 30

IEC Countries, India, Brazil

GO International

An organization that offers work and travel opportunities

Working Holiday

18 to 35

IEC Countries, USA

International

Association for the Exchange of Students for Technical Experience (IAESTE)

An association that offers opportunities in technical career

profession





Young

Professionals

International Co-op

18 to 35

IEC Countries





IAESTE Country Partners

International Rural

Exchange (IRE)

A Canadian organization that offers paid placements related to agriculture and horticulture

Young

Professionals, Working Holiday

18 to 35

IEC Countries

Memorial University of Newfoundland

(MUN)

University that offers Working Holiday internships for students and graduates

Working Holiday, International Co-op

18 to 35

IEC Countries

Stepwest

An organization that offers work experiences (e.g. Paid Ski Resort

Jobs)

Young

Professionals, Working Holiday

18 to 35

IEC Countries

SWAP

An organization that Working Holiday assists with IEC opportunities

Young

Professionals




Working Holiday

18 to 35

United States of America




IEC Countries

University of British Columbia

University that offers internships for

students and graduates

Young

Professionals

International Co-op

18 to 35

IEC Countries, Brazil, China, Iceland, India, Pakistan, Singapore, USA

University of New

Brunswick

University that provides academic placements, internships and research

Young

Professionals, International Co-op

18 to 30

IEC Countries
International Experience Canada Participating Countries
❓ How to Apply for International Experience Canada?
🏠 Which is Better? IEC Programs or Permanent Residency Programs
Choosing which visa suits you is based on individuals' preferences and objectives. For example, some may aim directly for PR while others may only need a temporary visa; perhaps some may want to try Canada out first before applying for PR.
Below is a quick comparative overview of IEC programs and PR programs.
International Experience Canada (IEC)
Permanent Residency Programs
Application Timeline
As early as 10 to 15 days after submitting application
Can take from 6 months to 5 years
Validity

Temporary or limited to a specific job/business or universitv

Valid up to 6 to 24 months (depending on participating country)

Limited participation frequency Rights and Benefits

Unlimited (until you revoke your rights)

PR Cards are valid up to 5 years but can be renewed (note: you don't lose your PR status when your PR card expires)

Rights and Benefits
Limited to Basic Worker Rights
Have almost the same rights as Canadian Citizens
It's better to thoroughly do your research in deciding which visa and program are right for you. You may seek help from a family or friend. Or you may reach out to immigration agencies or organizations like Canada CIS to help answer any questions you may have.
Learn more about immigration to Canada: