How To Immigrate To Canada as An Electrician In 2023
Canada Work Permit for Electricians
The labor demands in Canada continue to grow: the country's immigration programs are continuously hiking, and skilled workers are getting permanent residency in Canada. And one of the in-demand jobs is focused on certified electricians.
The demand for certified electricians throughout Canada is growing, so if you are looking to emigrate to Canada as a qualified Electrician, you must start working on it now.
You need an electrician's work permit to work and stay in Canada.
The following are just a few initial requirements to prepare for getting your work permit.
Published on September 3, 2023
Minimum three years' work experience: relevant to electrician jobs.
Proficiency in English / French 
Good medical condition through a medical certificate
Proof of no criminal record
Can I Work as An Electrician in Canada?
Yes, of course: if you have the qualification that will pass the immigration's eligibility requirement. Canada's workforce is aging out; hence they need more foreign workers now, more than ever. Below is a list of requirements to qualify as an electrician in Canada.
Completion of secondary school
Completion of a four- to five-year apprenticeship program – usually required.
Trade certification for construction electricians is compulsory in some provinces.
In Ontario: Trade certification for electrical control (machine) builders is available but voluntary.
Trade certification for electricians (domestic and rural) is compulsory in Ontario and Newfoundland and Labrador.
Professional certification and licensing differ in every Canadian province. For more details about it, you can check here.
How to Immigrate to Canada as an Electrician
Create your Express Entry profile. When creating your profile, bear in mind that the calculation of your Comprehensive Ranking System (CRS) Points for the Canada immigration points starts here. Then wait for an invitation to apply for permanent residency. The awarding of CRS points is based on the following criteria:
Applicant's age

Your qualifications

Language skills: English or French ability

Your partner's skills

Your work experiences

Your education
You will have sixty days to start processing your Express Entry application once you receive an ITA (invitation to apply). Do not start your application process without having your skills and points verified first. You cannot go back and do the verification process once you have received your invitation to apply for the Canadian Visa. Remember that your Express Entry profile is only valid for one year, so it is crucial to do things right from the start.
Skills Assessment is the process of getting your electrical skills, experience, and qualifications verified. It serves two purposes:
A positive skills assessment enables you to claim the requisite points; for the Express Entry CRS and eventual Federal Skilled Trades application.
A positive skills assessment also doubles as your Red Seal qualification: having your electrical skills assessed means you will be qualified to work as an electrician in Canada from day one.
The best immigration programs for you to move to Canada:
Every immigrant's main reason for moving to a new country and leaving their own is definitely the benefits another country such as Canada has to offer.
As an electrician hoping to get better work opportunities in Canada, the country offers different skilled worker programs for you.
The two most promising programs are the Federal Skilled Trades Program and the Provincial Nominee Program.
Let's get to know more information about it below.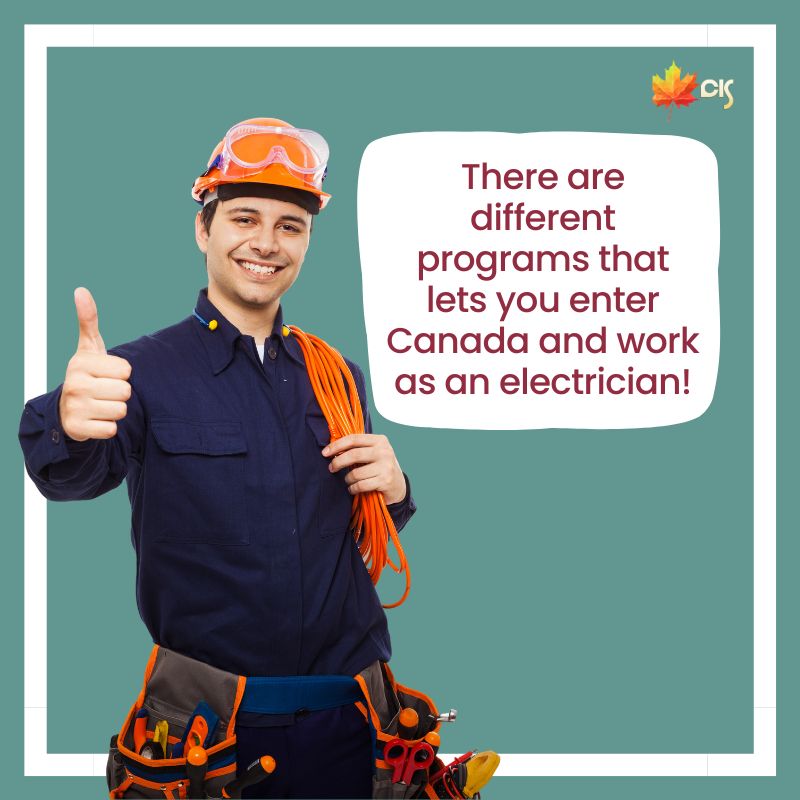 The Federal Skilled Trades Program
Minimum criteria are as follows:
at least two years' work experience

Language ability in either English or French

meet the NOC (National Occupation Code) job requirements of your specific trade 

a valid job offer; or

a qualification certificate from a province, territory, or federal authority
This Program is one of three federal programs under the Express Entry system intended to make immigration more accessible to newcomers. It can fast-track your application: visa process in as little as six months.
The Provincial Nominee Program
Is Electrician a Good Career in Canada?
Yes. In fact, electricians are among the highest-paid skilled worker in Canada. An electrician in Canada receives an average salary of $56,595 per year or $27.21 / hour (based on a 40-hour workweek). It varies depending on your years of work experience, the province where you work, and the company you work with.
Additionally, the quality of life in Canada is one of the best, if not the best worldwide. The country has a happy and productive population. The schools in Canada provide the best value and quality too. No wonder every year, flocks of foreigners immigrating to Canada are continuously growing.
How can CanadaCIS help you immigrate to Canada as an electrician? We make sure that your documents and application are properly verified and submitted as per the Canadian immigration regulations. A regulated Canadian immigration consultant such as CandaCIS can make your immigration application process effortless. And yet, making your immigration chances highly successful.
Do not leave any chance to get your application denied because of little mistakes due to lack of knowledge. Take the next step towards achieving your Canadian dream now and let an expert handle your application. Talk to us now! 
Immigrate to Canada as an electrician FAQ
Learn more about jobs in Canada: