Immigration Guide on Moving to Canada without a Job Offer
immigrants in Canada as of 2022
Most people know that it's possible to move to Canada without a degree, but did you know that you can also immigrate to Canada without a job?
While having a work offer may increase your chances of success when applying for a visa process via immigration pathways such as the Express Entry System and moving to Canada much simpler, it is not a requirement.
Published on September 13, 2023
💼 How to Move to Canada Without a Job
There are now over 72,000 positions advertised on Job Bank, the official Canadian Government website, and notable job search websites, providing sufficient opportunities for foreign workers seeking employment in Canada instead of applying abroad.
With Canada's goal of inviting more than 400,000 skilled and semi-skilled foreigners to immigrate this 2023, along with an immigration system that offers more than 80 different immigration options, now would be the perfect time to work in Canada and begin your visa application even without a job offer. In this article, we'll show you how!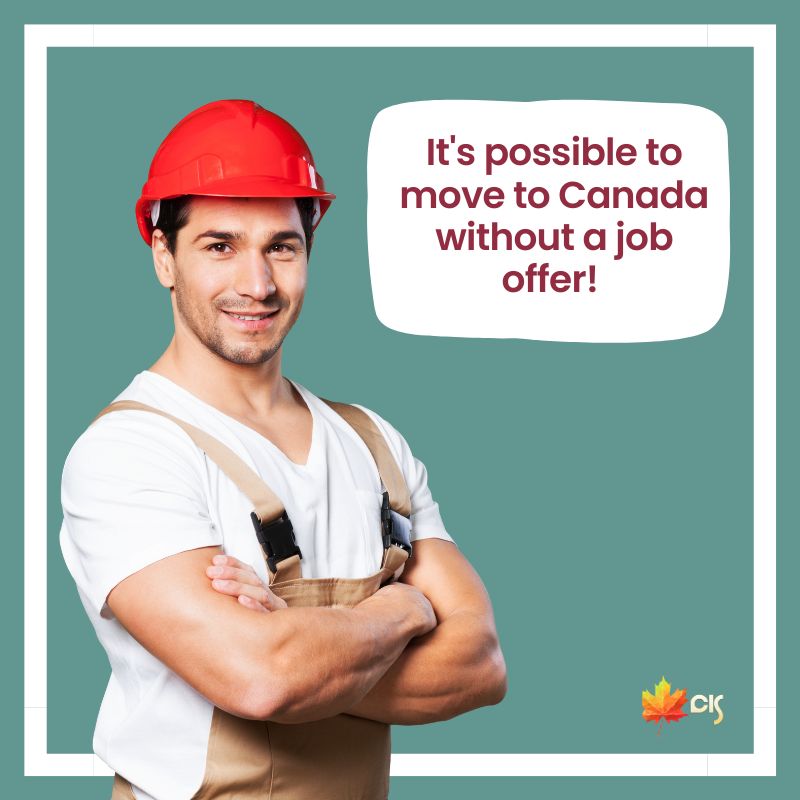 🛫 Canadian Immigration Programs Without a Job Offer
There are 2 options on how to move to Canada without a job, and they are:
Option 1: Express Entry's Federal Skilled Worker Program
Express Entry's Federal Skilled Worker Program is one of three available immigration programs you can choose from through this pathway. Its purpose is to assist skilled foreign workers in becoming permanent residents in Canada.
The requirements needed for FSWP are:
Must have worked for at least one year in a position classified as NOC 0, A, or B (managerial, professional, technical, or skilled trades).
A minimum language proficiency score of CLB7 in reading, writing, hearing, and speaking.
Secondary or post-secondary education (if obtained outside of Canada, an Educational Credential Assessment will be required).
After meeting the requirements for your application, you will then be evaluated using the following criteria, for which you may get points. To be deemed qualified to come to Canada via the FSWP, you must get at least 67 out of 100 points.
Points for the Federal Skilled Worker Program 
Age: Maximum of 12 points
Skilled Work Experience: Maximum of 15 points
Language Proficiency: Maximum of 28 points
Education: Maximum of 25 points
Adaptability: Maximum of 10 points
Job Offer: Maximum of 10 points
Along with the points listed above, you must prove that you have enough funds to support you and your family.
When you've fulfilled all qualifications and received a score greater than 67, you may set up an online Express Entry profile. You will be given a CRS score out of a maximum 1200 points, and your profile will be submitted into a draw pool from which the applicants with the best scores will be invited to apply for permanent residence in Canada.
Option 2: Provincial Nominee Program
☑️ Tips on Finding a Job in Canada as a Foreigner
Canada is a beautiful country, but finding work in Canada is not as easy as you would hope. Not because there are no job openings; the difficulty is obtaining a visa that allows you to work there. The good news is that, though it may not be simple, it is achievable, and there are several strategies to consider.
Luckily, we're here to provide some great tips for you to use when finding a job in Canada as a foreigner.
👩‍🔧 Reasons to Hire Employment Agencies in Canada
Employment agencies have grown in popularity in recent years. A growing number of Canadian businesses depend on the skills of a recruiting firm to fill open roles and projects. However, these agencies are attracting an increasing number of applicants!
This is why it would be a great option for you to consider when it comes to finding jobs in Canada for foreigners, and here are some reasons why you should hire them:
Candidates are not charged by employment firms. The agency takes on the assignment and is compensated by their customers (other companies). As a result, there are no charges on your end. You are receiving assistance for free!

Employment agencies possess an in-depth understanding of the labour market. They understand which industries and firms provide exciting prospects for individuals with your skills and competence and which expectations are reasonable.

Employment agencies operate on a big scale. As a result, they may often connect you with intriguing customers and tasks rapidly.

Employment agencies often have access to positions that you, the job seeker, do not (yet). In addition, through years of collaboration with customers, agencies are often the first to learn of essential profiles.

Employment agencies are following up on your application for you so that you don't have to. 
Additional Tip: CanadaCIS offers additional job search services that can help you find a Canadian employer faster and increase your chances of immigrating to Canada for work and applying for permanent residency. 
❓ Commonly Asked Questions
💻 10 Best Job Search Websites in Canada for 2023-2024
Choosing the best Canada immigration programs for work will improve your chances of moving to Canada.
But what exactly are the best choices for Italian workers? We've chosen the top 3 programs that are most suitable for you.
10. Indeed
Indeed collects job posts from around the web, including corporate career websites and professional organizations and enables you to search locally or worldwide. Among the free services available to job searchers are a résumé generator and a career blog.
9. LinkedIn
This leading networking platform enables you to discover employment not just via employer ads, but also via interactions with your extended network. Your profile functions as a résumé, and you can quickly discover and share career-related material, go deep into thought leadership postings from influential individuals in your profession, and request or provide recommendations. Furthermore, industry groups enable you to engage in professional discussions and keep track of firms that interest you and are important to your job hunt.
8. Eluta
Eluta is a Canadian job search engine that collects job listings from over 10,000 company websites around the country. Eluta offers links to the actual job advertisements by businesses. Candidates may sign up for email notifications to be notified when new positions matching their search criteria become available.
7. Jobboom
Jobboom is the leading recruiting website in Quebec and provides services in both official Canadian languages. This platform helps candidates to upload their resumes and apply for jobs directly or respond to job offer broadcasts made to chosen applicants through e-mail. Jobboom also provides career advice and articles on self-learning, market trends, and popular job pathways.
6. Glassdoor
Not only does Glassdoor allow you to look for jobs, but it also lets users evaluate firms they've worked for and share pay and benefit information, providing insight into organizations that job seekers would not otherwise know about. Professionals who have conducted interviews with a firm may also provide information on the organization's hiring practices. As for recruitment, Glassdoor enables employers to find potential employees and advertise their businesses to prospective employees.
5. Monster
This large employment site was one of the earliest commercial job search websites ever created. It operates in over 40 countries and provides services such as resume uploads, networking boards, corporate profiles, a resume evaluation service, and a mobile app. Additionally, the site assesses your suitability for a career based on your abilities and interests.
4. SimplyHired
SimplyHired is a job search engine that aggregates postings from job boards, business career pages, and specialist employment websites. According to the firm, it maintains a database of 700,000 unique employer job vacancies and offers job search engines in 24 countries and 12 languages. Employers should keep in mind that the site distributes your job advertising to over 100 job boards for maximum exposure.
3. Google for Jobs
Google for Jobs compiles job postings from a variety of sources, including some of the sites mentioned in this piece. Utilize it similarly to how you would Google, and from the identical primary search page. To get a list of open vacancies, do a search for key terms such as "accounting jobs." Additionally, if available, the results include business ratings and pay information for the job.
2. ZipRecruiter
ZipRecruiter originated as a cost-effective way for small companies to advertise job postings. It has evolved into an online employment marketplace powered by artificial intelligence that connects companies of all sizes with job seekers through mobile, web, and email services. Utilize ZipRecruiter's mobile application to search and apply to jobs, and get notifications when your application is seen.
1. Company websites
The majority of companies have a section on their website dedicated to Jobs or Careers. Identify the leading firms in your industry and inquire about vacant positions. Keep checking frequently, although some may allow you to set up job alerts for the positions that most interest you.
Due to the massive labour gap in 2021, several pathways are now available for immigrants without a job offer. However, the challenge is determining which program or visa you qualify for before moving to Canada. Check this article for more details on everything you need to know before moving to Canada.
Truthfully, if you wish to work in Canada without a job offer, the procedure may be more complicated since you may need to earn Canadian work experience before applying to a program.
If you want expert help and assistance, consult with any of our top-rated immigration experts about your migration possibilities today!
Learn more about working in Canada: