Caregiver Jobs in Canada: How to Get a Work Permit and More
Caregiver Job Openings in Canada
If you are considering working as a caregiver in Canada, obtaining a work permit is essential to ensure that you are eligible to work legally in the country. Caregiver jobs are in high demand in Canada due to the growing aging population and the need for skilled workers in the healthcare industry.
At CanadaCIS, we understand that the process of obtaining a work permit for caregiver jobs in Canada can be overwhelming and confusing, especially if you are not familiar with the Canadian immigration system. That's why we have created this article to guide you through the process of obtaining a work permit for caregiver jobs in Canada.
Published on September 3, 2023
📃 How to Get a Work Permit for Caregiver Jobs in Canada
Before you may legally stay, work, and get income while working as a caregiver in Canada, you must first obtain a work permit. To do so, here are 6 simple steps you can follow!
1. Make sure to check your eligibility
Checking your eligibility for a work permit will not only save you time but money towards your application. It also ensures that your requirements and work experience is eligible in Canada! The best way to have your eligibility checked is through a trusted consultancy such as CanadaCIS!
2. Choose the Type of Work Permit That's Best for You
There are two different types of work permits available; if your goal is to work in Canada and eventually settle there permanently, an employer-specific permit is the ideal option. An open-work permit would be your best choice if you want to work temporarily in Canada. You may work anywhere in Canada for any employer with this permit. The employer-specific permit, in contrast to the open-work permit, allows you to work for only one Canadian employer, who will be required to submit an LMIA or an offer letter before you decide to apply for this permit.
3. Gather Required Work Permit Documents
You will need to submit specific requirements for your work permit, our immigration professionals here at CanadaCIS can help you gather these documents for an easier experience towards your work permit application! 
4. Fill Up Your Work Permit Application Form
Your work permit application form should be filled out completely and accurately. Your application can be rejected, and this might result in lost time and money. Do not fear; our immigration specialists are here to guide you through each section, question, and element of your application to ensure that there are no errors at all.
5. Pay Additional Permit Fees
There will be additional permit fees depending on the work permit of your choice. It"s important that you pay for these fees in order for them to process your application. To know how much the permit application fees will cost, visit Canada's goverment website.
6. Submit Your Application to Immigration, Refugees and Citizenship Canada (IRCC)
After submitting your application, all that's left to do is wait to get your work visa before you can work in Canada as a caregiver!
📝 Young Professionals Program's Eligibility Criteria
There are 2 great immigration pathways made specifically for caregivers, to learn more about them check this list out!
The Home Child Care Provider
Home childcare providers assist parents in raising their children and may be asked to assist with home chores. In contrast to the Live-in Caregiver Program, which mandates that caregivers reside at their employers' homes, care can be delivered in either the caregivers' own homes or those of their employers.
You may be eligible for this pathway if you work as a:
Babysitter
Live-in child care provider
Private home-based child care provider
Nanny
Child's helper
Child foster care
Babysitter for health clubs and shopping malls
Home Support Worker pilots
💰 Caregiver Salary in Canada
In Canada, a full-time caregiver makes an average of $34,125 annually, or $17.50 per hour.
Most experienced caregivers can earn up to $45,045 per year, while entry-level roles start at $27,300.
In general, caregiver is an excellent job in Canada for foreigners and it's a great choice if you wish to work in the healthcare industry!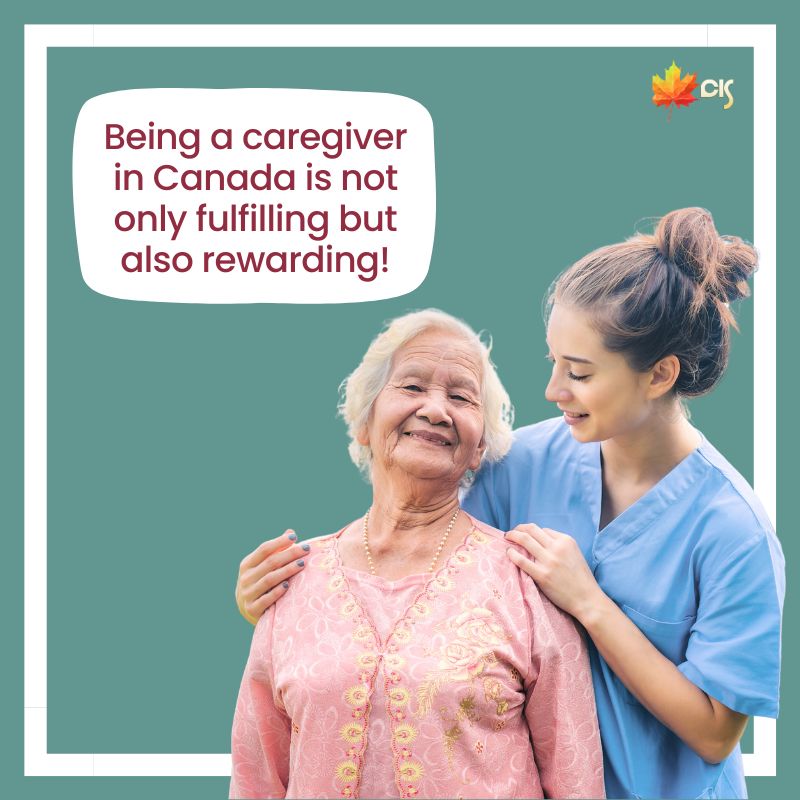 ❓ Additional Caregiver Jobs in Canada FAQ
Learn more about jobs in Canada: