How to Turn Your Canada Tourist Visa to a Work Permit in 2024
immigrant workers enter Canada per year
But how can you be one of them when you only initially planned to enter the country as a tourist? We got answers!
A tourist visa is the fastest way to sightsee, visit family, or enjoy the many attractions Canada has to offer for just 6 months. But what if your intentions after visiting is to stay on a permanent basis? How is it possible to turn this visa into a work permit if there's no possible way to do so except in very specific cases, such as spousal sponsorship, refugee, etc.? 
We'll show you how to do it legally and correctly, even if you don't meet any of the above criteria! So, continue reading to find out more.
Published on September 27, 2023
💼 Option 1: Apply for Jobs on a Tourist Visa
Tourists are prohibited from working in Canada during their 6-month visit, but did you know that it is legal to apply for a job in Canada while you are there? 
There is no law stating you can't look for a job during your visit to Canada, so this is the perfect chance for you to find a Canadian employer within your area or even online who can provide you a job offer.
Additionally, you'll be able to participate in in-person interviews, increasing your chances of landing the position! It's also important to keep in mind that some job positions may not need work permits.
To give you a better understanding of which jobs have higher probabilities of providing work permits, you'll need to search the current list of in-demand jobs in Canada. If you find your expertise in the list, you may have a high chance of receiving a work permit! 
Looking for job opportunities online is another fast and efficient way to get a work permit during your visit in Canada. Just make sure to place your current location to find nearby companies you can easily schedule face-to-face interviews within a few business days or so. 
Take Note: Employers who wish to recruit you must file an LMIA – Labour Market Impact Assessment – to determine if you (a foreign worker) will be able to provide a beneficial impact on the local labor market. Once filed, you may apply for a work permit.
Top Options to Finding Jobs in Canada
Via Online

https://ca.indeed.com/
https://workopolis.com/
https://linkedin.com/
https://jobbank.gc.ca/jobsearch/.com/
With the help of CanadaCIS:
You may also obtain assistance from one of our top-rated job search experts, who can help you locate a Canadian company, prepare you for interviews, and guide you in getting your job offer.
Want to apply for a Canadian work permit?
Sign up and we'll help you!
You are already in our system. Please wait for us to contact you or apply again in 1 hour. For urgent cases send mail to office@canadacis.org
🎓 Option 2: Switch from Tourist Visa to a Student Permit (Best Option)
The best way to turn your Canadian tourist visa to a work a is to choose a study program.
This allows tourists to apply for a study permit in Canada, which allows them to work while attending school for up to 20 hours.
This is great in increasing your chances of working in Canada after graduation and increasing your Canadian work experience by a ton! 
By choosing this option, you'll have higher chances of getting a work permit in Canada and applying for permanent residency than to merely come to Canada and start looking for employment, which may take you up to your six-month stay in the country in total.
Working in Canada After Graduation
You should apply for a Post-Graduate Work Permit (PGWP) if you wish to turn your canada tourist visa into a work permit. It is possible to apply for a PGWP within 180 days of graduating from college.
Eligibility
Before you may apply, you need to meet the following conditions:
You've successfully finished your course/program

Provide your study program's name and duration of your course
Requirements
Do you think any of these two options are doable? If so, start your journey to turning your tourist visa to a work permit today with the help and guidance of CanadaCIS! It's never an impossible situation when you've placed your immigration process in the right hands. So what's stopping you? Start today and work in Canada this year!
📍Best Provinces to Search and Apply for a Job
Save up on time and effort before you enter Canada on a tourist visa, and choose to visit a Canadian province with the best job opportunities for you! Want to know more? Check this infographic down below!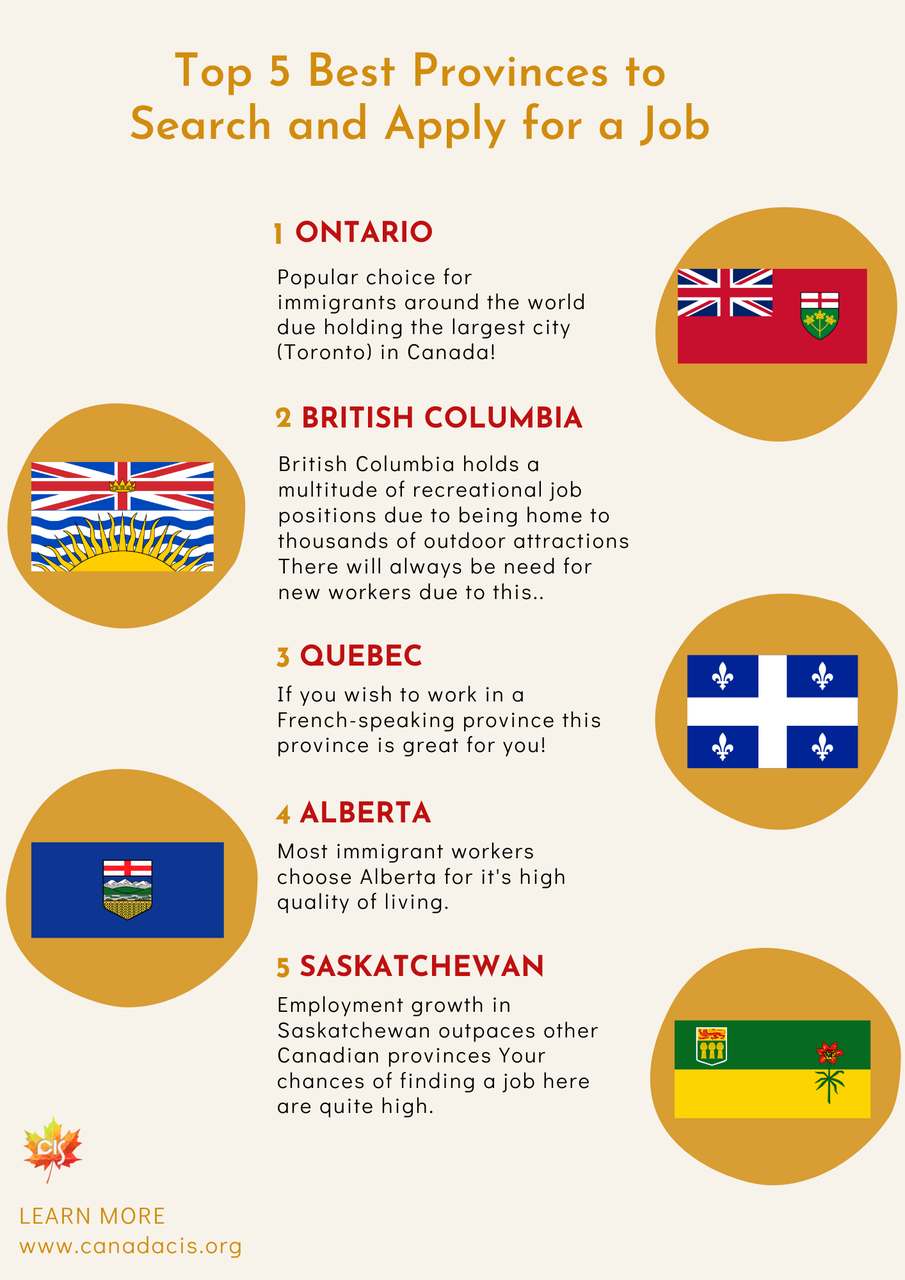 Fun Facts About Jobs in Canada Per Province:
Over 3000+ Mauritians work in Canada and choose to live in the province of Ontario.
The province of British Columbia is the best place for Developers and Software Engineers to look for jobs.
Looking for French-speaking jobs in Canada? Quebec is the most suitable province for Francophones to find jobs!
The province of Alberta is best for young working couples or families looking to raise their children in affordable living conditions.
If healthcare is something important to you, the province of Saskatchewan is known as the birthplace of Medicare, providing employees with generous medical benefits.
Learn more about work in Canada: