Work in Canada for Italian Citizens: 2023 Immigration Guide
Italian immigrants in Canada
Are you Italian thinking about working in Canada?
There are plenty of reasons why Italians decide to immigrate to Canada, and one of them is to find better job opportunities.
In this article, we've done the research on working in Canada from Italy so that you don't have to!
Immigrating to Canada for work generally holds many benefits, and here at CanadaCIS, we'll tell you why. 
Published on September 17, 2023
👷‍♂️ An Intro to Work in Canada for Italian Citizens
Leaving behind your home country in Italy to work in Canada provides several fantastic opportunities for you and your family. 
Canada is the top choice for Italian immigrant workers due to an excellent work-life balance, quality work benefits, and not to mention plenty of job opportunities! 
In the next following sections, we'll talk about the best immigration programs for Italians, the benefits of working in Canada, the cost of living and working in Canada compared to Italy, and so much more. 
You'll need these tools to successfully prepare yourself for the start of your immigration journey as an Italian citizen moving to Canada for work and a better life.
🛫 Immigration to Canada from Italy Programs
Choosing the best Canada immigration programs for work will improve your chances of moving to Canada.
But what exactly are the best choices for Italian workers? We've chosen the top 3 programs that are most suitable for you.
Express Entry
The most popular choice for Italians is the Express Entry program. This program is available for skilled Italian workers looking for Canadian permanent residency.
Provincial Nominee Program
The Provincial Nominee Program was created for immigrants who have a specific province in mind. 
Suppose you're an Italian candidate who acquires the skills, education, and work experience to contribute to Canada's provinces. In that case, this program is an excellent choice for you.
Quebec Skilled Workers Program
There are two things you should know about the Quebec Skilled Workers Program:
It doesn't require a valid offer from a Canadian employer. So Italians can choose this program if they're undecided on what jobs they should apply for and instead would like to do the job search once they arrive in Canada.
Quebec is a great province to immigrate to for Italians due to its large Italian population.
💰 Well-Paid Jobs in Canada for Italians
Thinking of working in Canada but not sure what jobs are the best for Italians? 
Some of the best jobs in Canada for foreigners (but not limited to) are perfect for Italian workers, such as:
☑️ Benefits of Working in Canada as an Italian Immigrant
Every immigrant's main reason for moving to a new country and leaving their own is definitely the benefits another country such as Canada has to offer.
If you're unsure what benefits there are for Italian immigrant workers and if it's worth leaving your home country behind, we've listed 4 reasons why it's one of the best decisions you could make for a brighter and better future. 
Employment Opportunities
Canada is known for its low employment rate and is the ideal place for career opportunists.
There are plenty of job opportunities to choose from, such as telecommunications, culinary, aerospace, engineering, software development, healthcare, and so much more!
Another great thing about being employed in Canada as an Italian immigrant is the advantage of taking your spouse and children with you as dependents who plan to move with you.
Work Benefits
Childcare benefits
Multicultural society
💸 Cost of Living in Canada Compared to Italy
If you're still undecided about whether Canada is the right place for you, we've come up with the average cost of living in Canada compared to Italy.
As you can see below, some prices in Canada may be higher than in Italy, but if your primary reason is to come for work and higher salary opportunities, then Canada is the best way to go!
Cost of living for one person
Canada: $1554
Italy: $1295
Cost of living for a family
Canada: $3551
Italy: $3193
Canada: $1430
Italy: $1075
Canada: $2454
Italy: $1599
Canada: $46233
Italy: $34483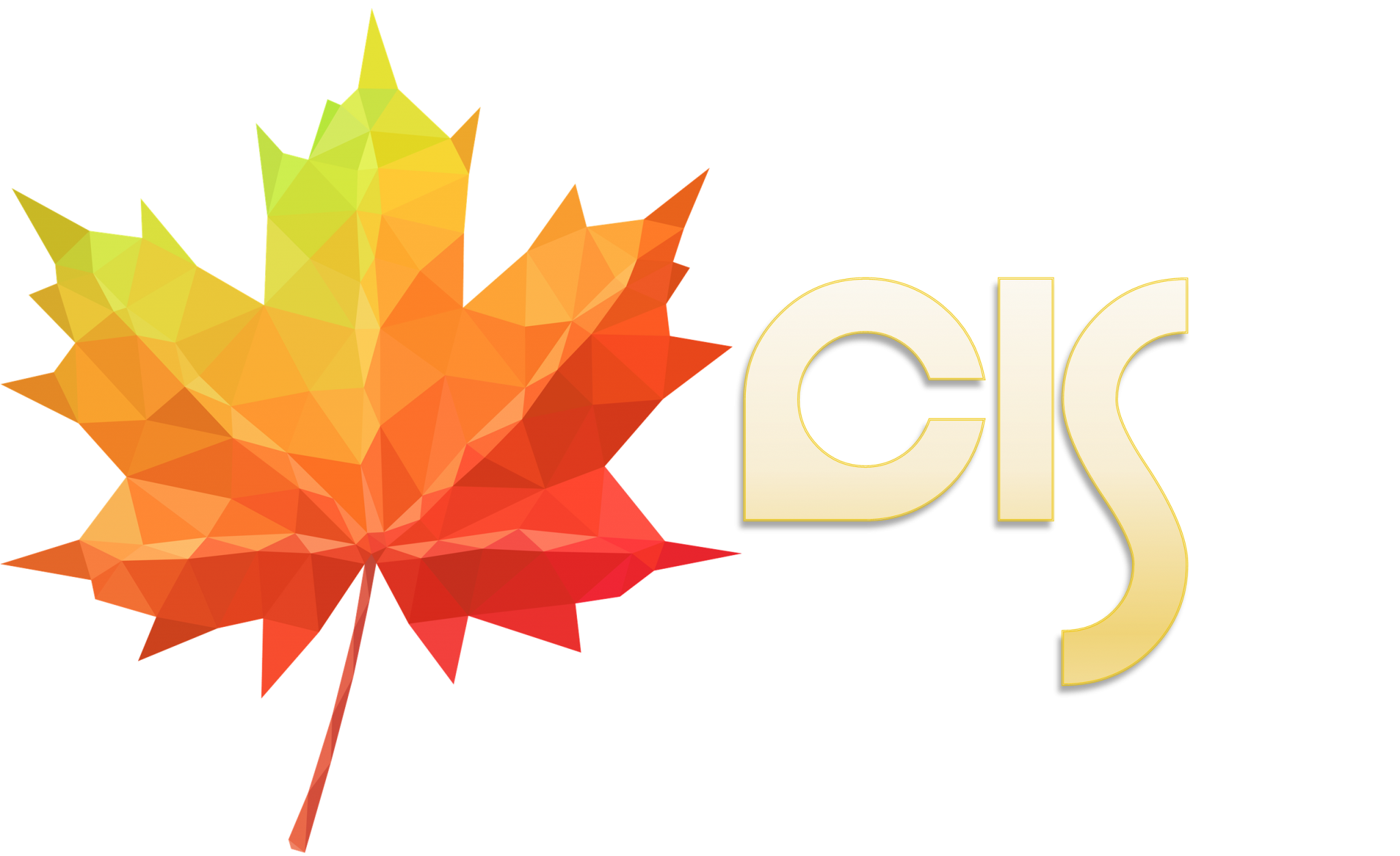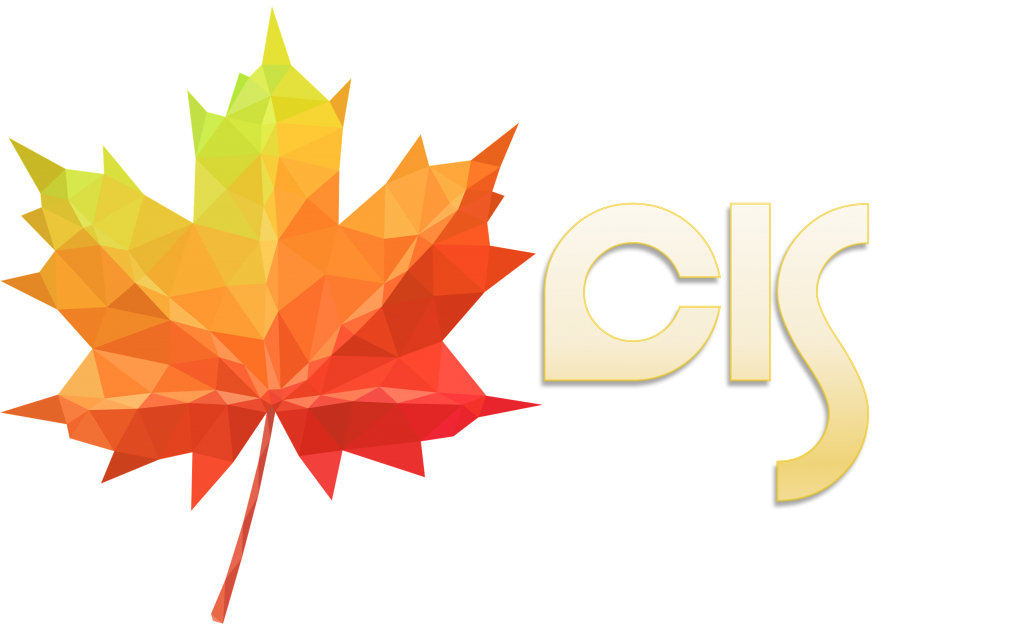 🌦️ The Most Popular Seasons to Work in Canada for Italians
Generally, all seasons in Canada are great to work in, with plenty of benefits. 
We've made a comparison between winter and summer jobs to help you determine which season is best for Italian candidates who plan to take advantage of a working holiday in Canada rather than committing to permanent residency. 
Even if you plan to move permanently, it's still essential to know which seasons fit your job occupation the most.
Ski instructors and people who work in hospitality can benefit from this season the most.

Almost all holiday resorts in Canada offer accommodation to their seasonal employees, and wages are decent. 

Whether you plan to work as a bartender, ski instructor, hotel manager, etc., your average salary will come with large tips due to everyone out on holiday.
Farmers, fruit merchants, cherry pickers, and just about any skilled seasonal worker can benefit from this season. 

There are thousands of picking jobs available in Canada during the summer, along with plenty of other farming opportunities 

Not only are farming jobs popular during this season, but you can also easily earn a decent amount working at carnivals, amusement parks, and shopping outlets.
📍 The Best Canadian Provinces for Italian Workers
Italians are everywhere in Canada! As of the 2016 census, 4.6 percent of Canada's population is Italians, and many Canadian residents have stated they were of Italian descent. 
Italian-Canadians are scattered throughout Canada but can be commonly found in cities such as Greater Toronto Area, Hamilton, Niagara Region, London, Guelph, Windsor, Ottawa–Gatineau, Barrie, Sault Ste. Marie, Greater Sudbury, Thunder Bay, Greater Montreal, and Greater Vancouver.
But the two most popular province choices for Italians are Ontario and Quebec.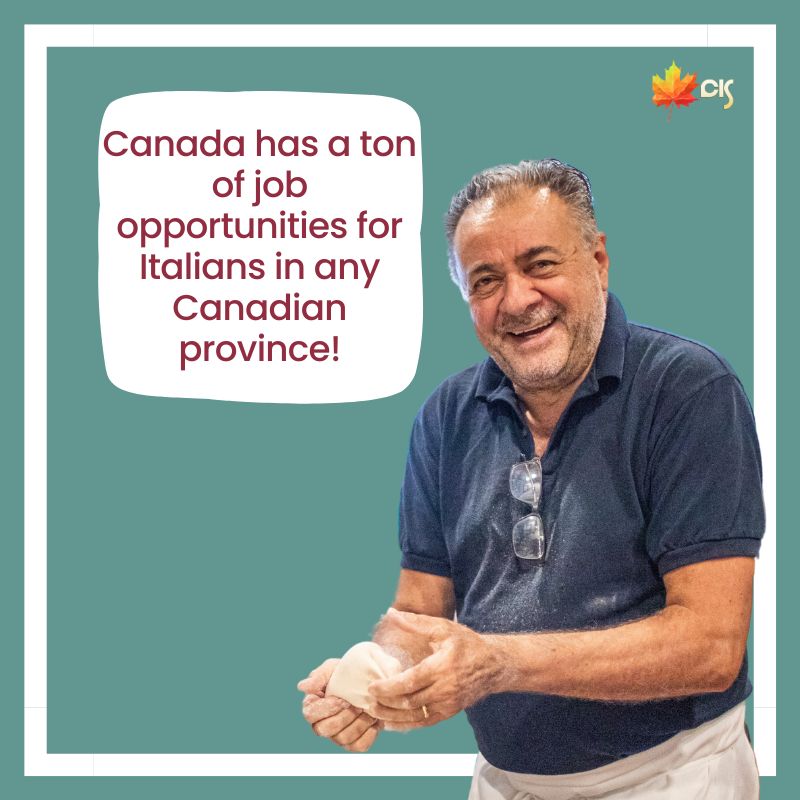 Ontario is where most Italians have chosen to live, taking up seven percent of the population (over 900,000).  However, Quebec's Italian residents make up four percent of the population (over 300,000).
But why do Italians choose these two provinces over the rest, you may ask? We'll give you a significant answer to each.
Ontario provides the most generous salaries for jobs than any other province. As for Quebec, the province is most famous for having the lowest cost-of-living in Canada; something Italians seem to find sensible to immigrate to.
Both are generally ideal and excellent choices for Italian workers who plan to immigrate to Canada for better work opportunities and living costs. 
🏘️ The Italian Community in Canada
When it comes to community in Canada, Italian immigrants are pretty prominent across the country regarding organizations and events. 
Some popular organizations to take part in once you arrive or even research before your move are:
Italian Chamber of Commerce of Ontario

Kelowna Canadian Italian Club

Italian Cultural Centre of Vancouver 

Canadian Italian Advocates Organization (CIAO) 
Popular Italian events and festivals are also thrown yearly by Italian-Canadian organizations such as:
Canada's Wonderland Taste of Italy, Italian Food Festival
Montreal's Italian Week Festival at Little Italy, Montreal
Taste of Little Italy Festival 
Italian Contemporary Film Festival 
During times you're feeling homesick after a long week of working in a new country and environment, these organizations and events are a great way to feel at home without spending thousands on another plane ticket back to Italy.
❓ Commonly Asked Questions
So, is working in Canada for Italians a great choice in 2022? It sure is! 
There are plenty of Italians who are still choosing to immigrate to Canada this year for job opportunities, and with the help of the best Canada immigration experts at CanadaCIS, you can too!
Learn more about work in Canada: