An Immigration to Ottawa Guide for Foreigners
Why Should You Immigrate to Ottawa
For the seventh consecutive year, MoneySense has found Ottawa to be one of the safest locations to live in the world, as well as Canada's second-best place to call home.
Ottawa is considered a home away from home for Canadian immigrants. This city is the perfect place to start a family, advance your profession while you're still young, and a possible place for retirement.
To help you make your decision, here are 4 compelling reasons why relocating to Ottawa is the best choice for you:

Published on July 21, 2021
The Cost of Living in Ottawa
With regards to safety, cleanliness, and friendliness, Ottawa is great, although it does have an above-average but still reasonable cost of living. Renting an apartment depends on where you live. The monthly rent may vary from $700 to $1400 or more. These prices will depend on your choice, the amount of individuals involved, and specific requirements. Cheap housing is, however, located mostly owing to colleges being there. Rent often includes amenities such as internet, power, and other additional household necessities.
Top 10 In-demand Jobs in Ottawa, Canada
Luckily, the number of well-paid employment is increasing in the Ottawa region, which is resulting in more variety in the sectors that are settling within the city. To know that the Median household income in Ottawa is $102,000 is just astounding.
Listed below are the top 10 of many current job opportunities that may provide a high salary and which are in great demand in Ottawa, such as:
1. 👩‍💻 Software Developer – Potential Salary: $100,000+

2. 💲 Salesforce Developer – Potential Salary: $110,000+

3. 📊 Director of Valuations – Potential Salary: $120,000 to $130,000

4. 💻  Software Product Manager – Potential Salary: $130,000+

5. ⚖️ Corporate Lawyer – Potential Salary: $100,000+

6. 👨‍💻 Senior IT Security Specialist – Potential Salary: $110,000+

7. 🖥️ Senior SaaS Project Manager – Potential Salary: $120,000+

8. 🤴🏻 Director at a Crown Corporation – Potential Salary: $130,000+

9. 👷🏻‍♂️ Engineering Project Manager – Potential Salary: $125,000

10. 🚀 Aerospace Engineer – Potential Salary: $80,000 – $100,000
Steps on How to Move to Ottawa as an Immigrant
There are many immigration pathways available in Canada! To make things simpler for you, we've included instructions on how to relocate to Canada correctly. Take note of these 3 easy steps mentioned below along with their requirements for a smoother immigration to Ottawa: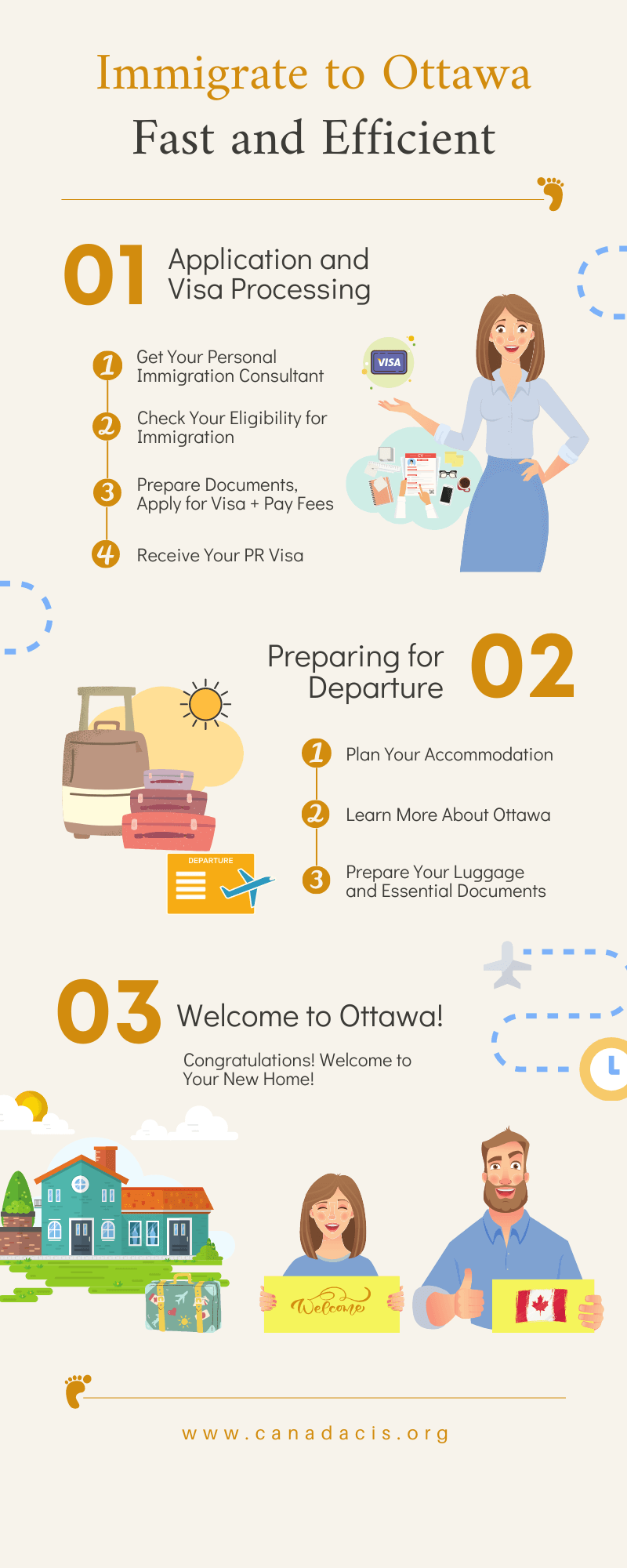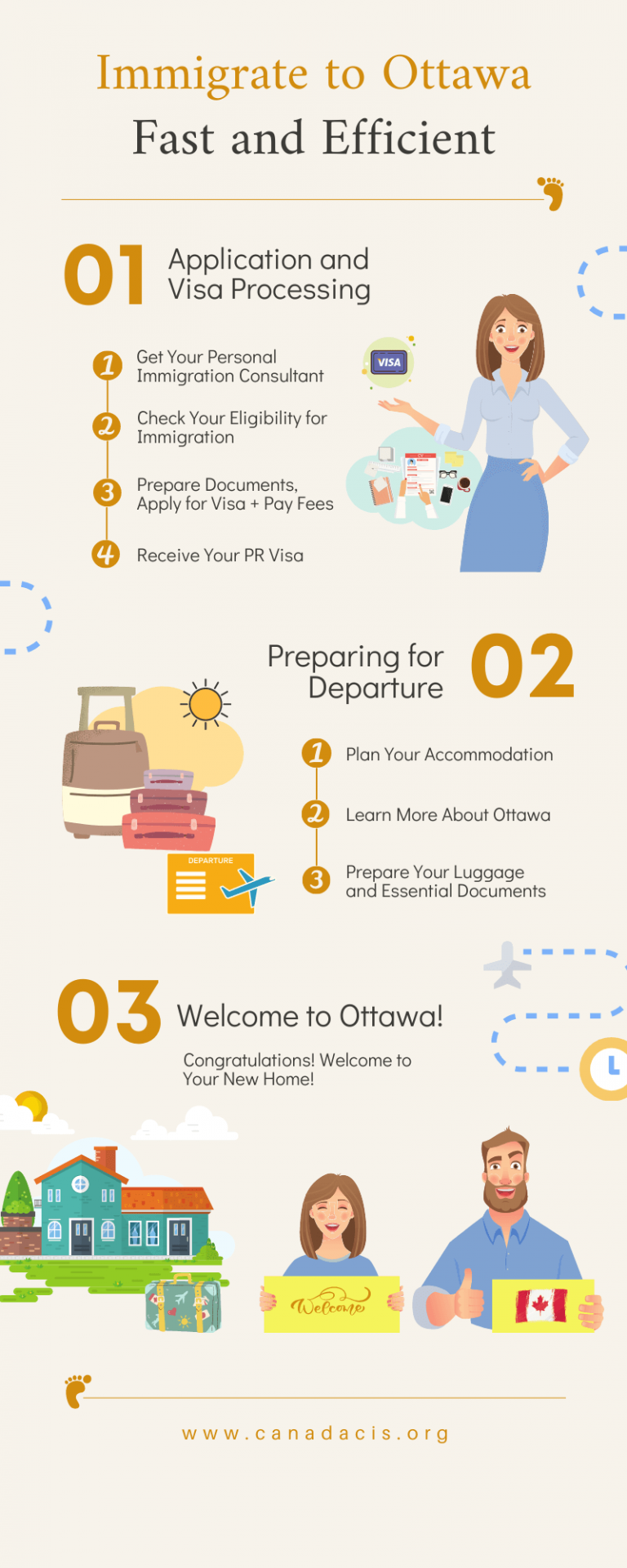 What to Expect: Getting Accustomed to Life in Ottawa
We're thrilled about your relocation and we want to get you ready for it. With that being said, we've provided you with some pros and cons of what to expect upon your arrival and what life is like in Ottawa! 
A Stable, Well-Off Society

Abundance of Open Green Spaces and Bike Paths

Several World-Class Museums

Breathtaking Natural Attractions

Plenty of Job Opportunities Available

Less Traffic

Open and Friendly Community (especially towards immigrants)
Less Vibrant (more for people who prefer a simple life)

You May Need to Be Bilingual to Get a Job

Several Public Transportation is Still Under Construction
We hope this has helped you to go from feeling hesitant about your immigration to Ottawa to feeling truly delighted and excited to take the first step! As always, getting advice from a licensed immigration specialist is strongly recommended when trying to gain access to Canada. At CanadaCIS, we're here to help!
Learn more about life in Canada: