Immigration to Alberta: Jobs for Foreigners
💼 Top Jobs In-demand in Alberta
Alberta is Calgary's home province, a city flooding with job opportunities offered to immigrants and locals.  It is the best place to work in Canada. 
Alberta is known for its high living standards, multicultural and diverse communities, jaw-dropping landscapes and natural attractions, and a stable focus on its economic growth. This all contributes to more jobs and additional opportunities for workers.
Currently, the top jobs that are in-demand (but not limited to) in Alberta are:
Published on September 3, 2023
👨‍💼 The Most Common Jobs in Alberta
If you're looking for more common well-paid jobs, here's an accurate list of the most common jobs in Alberta for you to choose from:
Supply chain management supervisors
Petroleum, gas, and chemical process operators 
Natural resource production managers
Machinists and tooling inspectors
Aircraft mechanics and Railway carmen
Appliance services and repair
📄 How to Get a Job Offer in Alberta
Landing a job offer in Alberta takes about three steps.
Three steps may seem easy, but a lot of time and effort is involved when applying for a job in Alberta, especially if you plan to work for permanent residency. 
If you follow these three steps carefully and adequately, you'll surely land that job offer in no time!
The first step is to apply for a work permit (if you don't already have one). A Canadian work permit allows you to earn money inside of the country legally.
The second step is to find jobs preferably online, apply, and get a job offer from an Alberta employer.
The third and final step is to acquire an LMIA. An LMIA is a document stating to the government that you've been hired to work in Canada by an employer. 
A positive LMIA document will show the government that there is an actual need for a foreign worker to take over the job. 
In some cases, employers must apply for an LMIA before you can apply for a work permit. 
You can easily speak to your employer to create a copy and submit it to the Immigration, Refugees and Citizenship Canada (IRCC).
👩‍💼 Alberta's Work Environment and Culture
Alberta is known for its vibrant work environment and culture. From behaviors to practices and even manners, the province provides "easy-to-adjust" etiquettes for foreigners, such as:
Work hours typically being from 9 PM to 5 PM

The common use of organizational charts

Employees are always required to report their reason for tardiness, late, or absence
Shaking of hands, smiling, saying how are you, or pleased to meet you are common in the workplace

Alberta workplaces call people by their first names 

Always be respectful
Some workplaces have dress requirements so make sure to research or ask in advance before your first day of work

Some workplaces do not allow personal care products with strong scents.
Generally, all workplaces have very adaptable, friendly, and open-minded work environments, so that is something to look forward to when landing jobs in Canada.
💰 The Average Salary in Alberta
An average job position in Alberta earns approximately $129,000 Canadian dollars each year.
Salaries in Alberta can range from $32,500 Canadian dollars to $574,000 Canadian dollars, including housing, transportations, and additional benefits.

This is copious when compared to other provinces in Canada.
Comparison to Other Provinces:
🏠 The Cost of Living in Alberta
A 1-bedroom apartment in Alberta located in the heart of the city will cost you around $1,220 Canadian dollars per month. 
As for apartments outside of the city, this can average to $800 to $900 Canadian dollars per month. 
Overall, the cost of living in Alberta (including housing, daily essentials, weekend attractions, and taxes) is one of the most affordable within the country, which provides residents with more reasons to enjoy the rest of their income.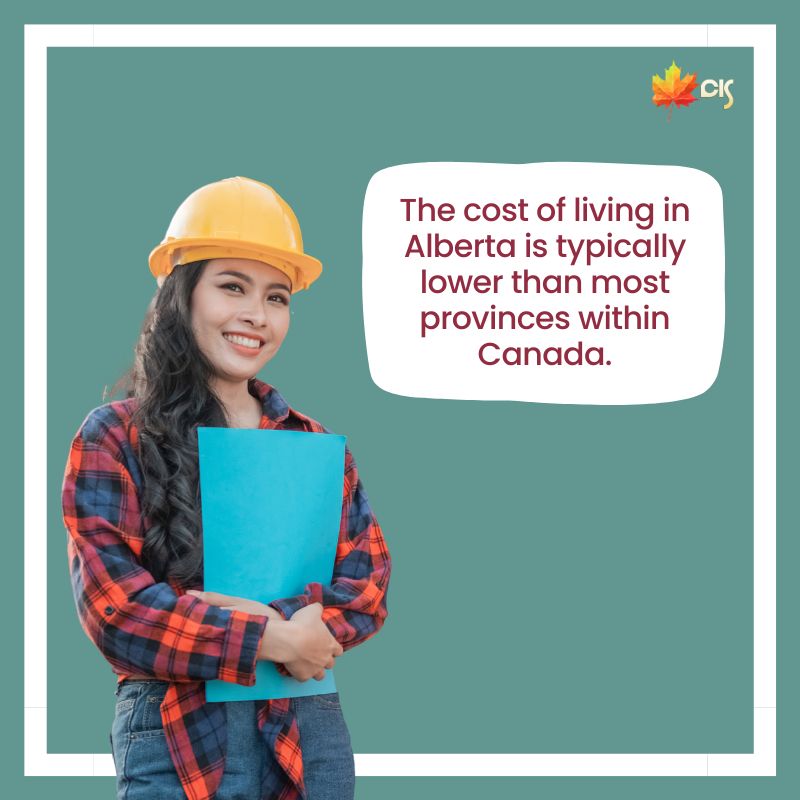 ✔️ Fast Facts: The Benefits of Living and Working in Alberta
Alberta believes that with hard work comes double the pay
Statistics in Canada shows that Alberta has the highest hourly wage out of all the provinces in Canada
There are 76 provincial parks, 31 wildland provincial parks, 208 provincial recreation areas, 3 wilderness areas, 15 ecological reserves, 139 natural areas, and 2 heritage rangelands for exploring during your days off
Alberta's healthcare system provides residents with 106 acute care hospitals, 2,772 mental health and addiction beds, 249 community palliative and hospice beds, 5 psychiatric facilities, more than 850 facilities More than 850 facilities
Alberta healthcare plans offer full coverage for almost all healthcare services.
The government funds education from levels K-to-12 and about two dozen colleges are publicly funded
As you've read in the information provided above, there's absolutely no reason not to choose Alberta as your new home to work in. 
Alberta has more advantages when it comes to finding a job more than any other province within Canada. 
Undoubtedly, future immigrants won't find it challenging to choose the perfect job that'll suit their skills and experiences. 
At CanadaCIS, we hope that your immigration to Alberta and job hunt will be nothing but smooth sailing from here on end. 
For more information on immigrating to Canada as a skilled worker, please visit our "contact us" page to access our details. 
🍁 Moving to Alberta as an Immigrant
Moving to Alberta will be one of the most challenging yet rewarding things you'll have ever done in your life. You and your family will need to adapt, learn, and accept a new way of living, culture, and community. 
Truth be told, it is a long process to get to Canada but never difficult. Taking advantage of resources, such as immigration consultancies, government departments, articles such as this one, and even the newspaper will significantly help you learn more about what's to come. In addition to adapting to a new country, you'll need to find a job that best suits your skills and interests. 
Finding a job before or after the big move will seem daunting at first, but as long as you're confident and prepared, there's no reason to be scared to apply to as many jobs in Alberta as you please.
❔ Commonly Asked Questions
Luckily, there are plenty of ways to immigrate to Alberta, such as:
Alberta Opportunity Stream
Suppose you're a foreign national previously or are already working in Alberta. You've been provided with an official employment offer from an employer in Alberta to continue working full-time. In that case, this program is the best option for you. Do note that candidates for this stream must meet various eligibility requirements such as work experience, job-offer, language proficiency, and education.
Alberta Express Entry Stream
The Alberta Express Entry Stream is an excellent choice for your immigration to Alberta. This stream allows the province to select candidates with active profiles in the Express Entry System and provide them with provincial nominations. The criteria required for this are still unknown, but AINP has stated that if you present strong ties to Alberta and can support their economic development, this stream is suitable for you.
AINP Self-Employed Farmer Stream
Suppose you're a foreign national with extensive skills and experience in running and operating farms, along with enough funds to launch new farming operations in Alberta. In that case, you may be a perfect candidate for this stream. To learn more about your eligibility, candidates are required to consult the province and submit an in-depth proposal that includes their plans to boost and create new agricultural farms in Alberta. 
The Alberta Immigrant Nominee Program (AINP)
AINP is a great way to become a permanent residence in Alberta. This program nominates candidates who have skills good enough to fill job shortages within the province or plan to put up or establish a start-up business in Alberta. Additional requirements also include being able to provide for their own families. 
It's a long process, but as mentioned before, it's not impossible. What's great about Alberta is that they do not have lists of specific jobs or occupations. This means that all types of skilled workers and young professionals from various backgrounds are eligible to apply. Furthermore, Alberta welcomes candidates with a CRS score of 300+ in the Express Entry pool.
Learn more about jobs in Canada: