Want to Buy a Car in Canada? Here's How.
Coming to Canada could involve several preparations upon arrival, one of them could be buying a car for easier transportation around your new city.
This guide will provide newcomers on how they can purchase a new car and what procedures they'll need to take before buying one to guarantee a hassle-free and quick vehicle buying experience!
You will need to get a driver's permit
Before anything else, the most important part of buying a car would be to first get a driver's license.

Note: If you need to drive instantly upon arrival, for a limited time, you should be able to drive in Canada using your foreign driver's license. Your international driver's license is valid for up to just a year in any country including Canada, and you also have the option to renew it if needed.

After getting a license, you'll need to look for a car
Searching for a car would be the next part of your journey. But before you even get to that part, you'll need to jot down some key notes before making a final decision, such as:
In addition to the amount you may spend on the automobile, you'll want to set aside money for normal and unexpected maintenance bills, as well as other car expenses like petrol. When purchasing a vehicle, bear in mind that you'll be responsible for paying taxes and maybe additional charges. To register your new vehicle with the government, you may still be required to pay sales tax even if you bought it from an individual.
If you merely need a vehicle to go about town, a sedan can be a good option. However, if you have a big family, you may want to consider an SUV or van.
Auto or manual/New or Used: Which is Best?
In Canada, automatic automobiles are more frequent, although you may still obtain manual cars if you like. Manual automobiles are often less expensive than their automated counterparts.
When you buy a new automobile, you have the joy of being the first owner. On the other hand, they tend to be more costly and don't stay at the same high valued price as they first came out with. If you plan on reselling the vehicle in the future, this is something to keep in mind. Many secondhand automobiles are available in Canada, including some that are almost new.
After narrowing down your choices to a few specific makes and models, going automobile shopping becomes much less of a hassle. Make a list of the cars you "need" and the cars you "want". If you can find something that sits in the middle, that should be your best option!
To give you a better look at Canada's top-selling cars in today's market and their prices, check the list down below!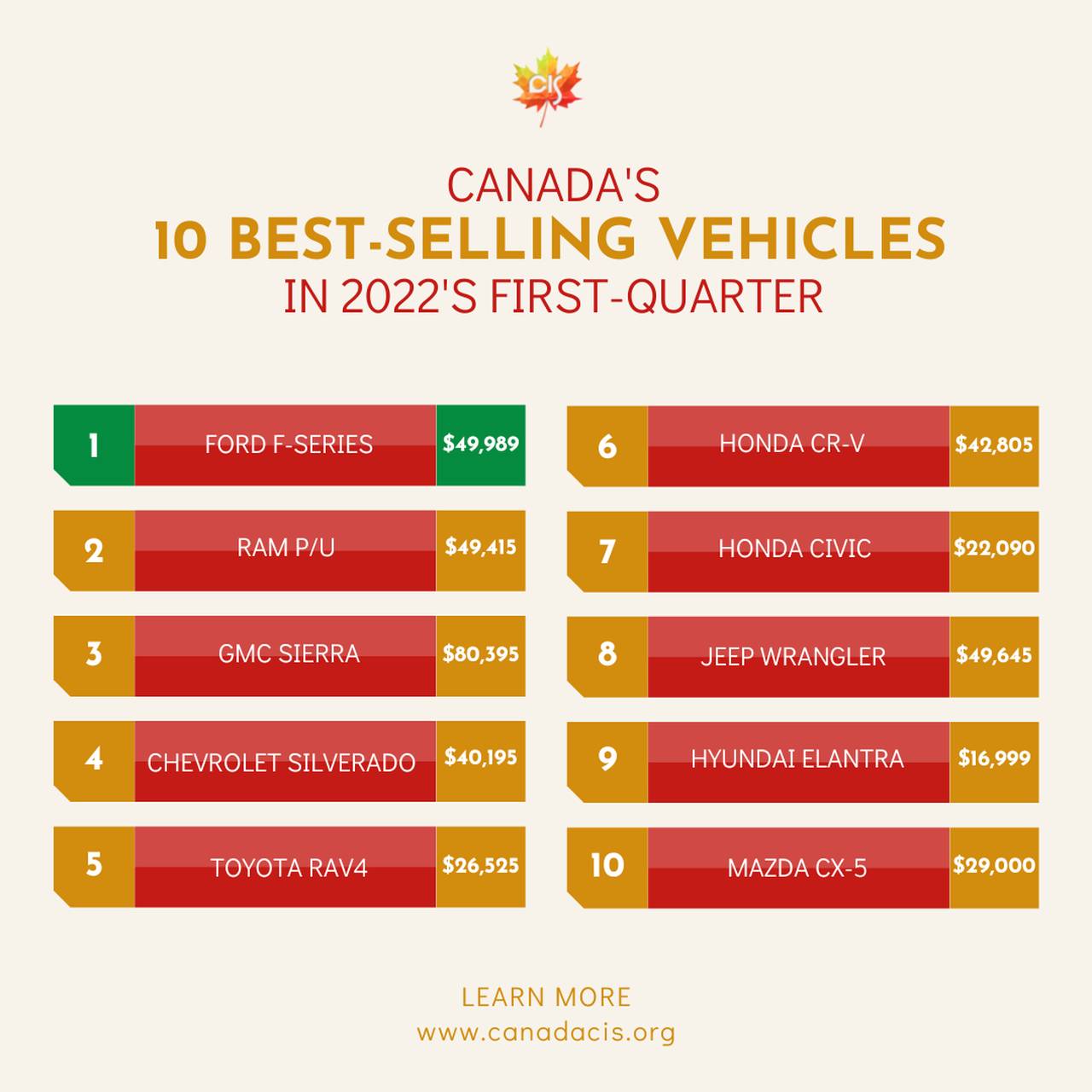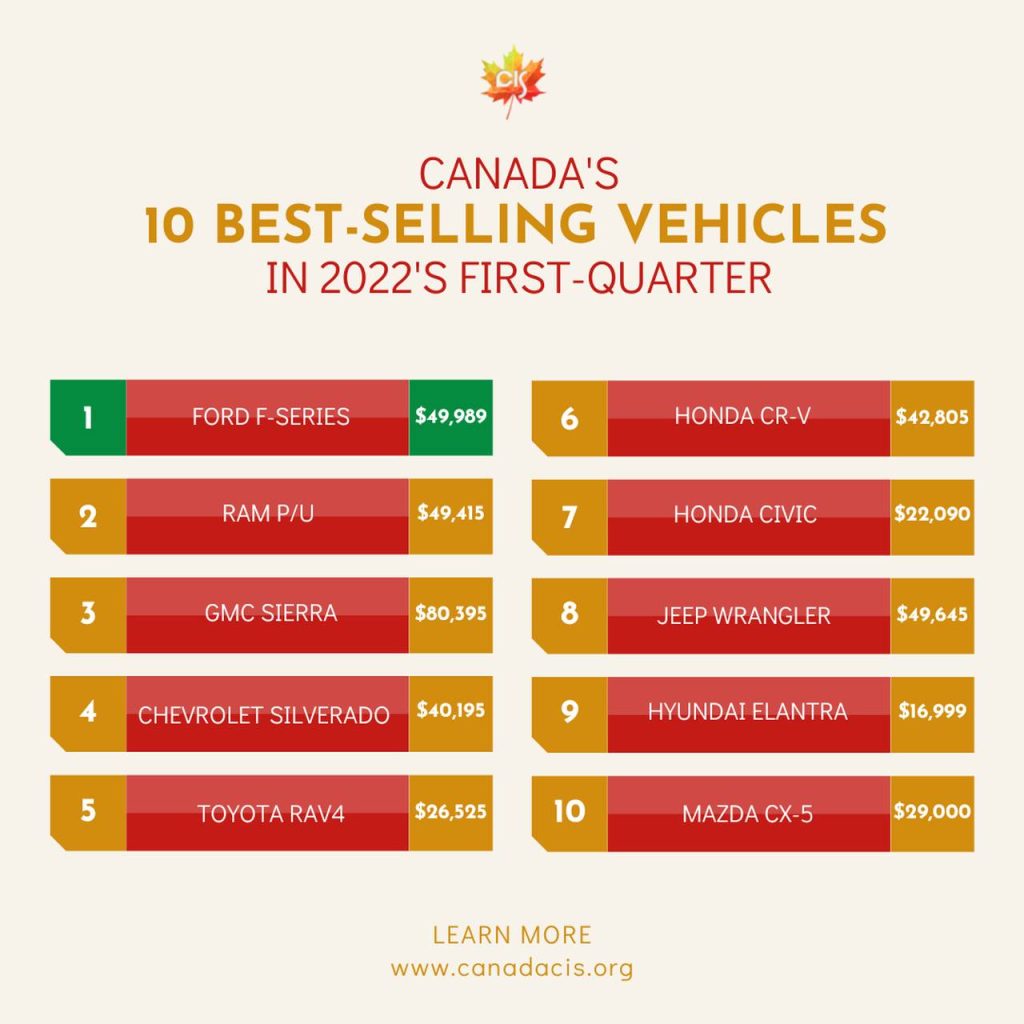 What should I know about driving in Canada?
During winter season you may need to change your tires to "snow tires".

If you see a school bus flashes red, you must "STOP".

If traffic signals are not working, proceed as if each intersection is a "4-way stop". 

When driving, drivers must always have prepared their driver's license, their vehicle registration, and their insurance papers within the vehicle.

Always check your side and rear view mirror
Do not use any handheld electronics when driving

Drive without any seatbelts

Keep your children in the front passenger seat

Drive intoxicated

Drive pass warning and street signs without following
You'll need to apply for car insurance
Your vehicle must be insured at all times when driving in Canada. Auto insurance is required by law to ensure the safety of all parties involved.
Liability
This is required by law in Canada. It protects you in the event that you harm someone or cause damage to their vehicle. The minimal level of coverage necessary varies from province to province.
Collision
Comprehensive
Don't forget to register your car!
Normally car dealerships register the chosen car with your province or territory on your behalf.
Although if you plan to purchase a car from a private seller, you will be responsible for registering the vehicle with the appropriate authorities.
The following requirements are needed upon registration:
Driver's license

Proof of current automobile insurance

A valid vehicle permit as well as a signed transfer of ownership paperwork
So what are you waiting for? With the right information from CanadaCIS, you may begin your journey to become a first-time car buyer in Canada and enjoy your first ride. Safe travels! 
Learn more about life in Canada: