How to Get Agriculture Jobs in Canada for Foreigners
Working in the agriculture sector? Do you want to go to work in Canada? When it comes to the need for agriculture workers in Canada, there has never been a better moment than right now, as agriculture falls within the list of high-demand jobs for immigration to Canada.
If you wish to work in Canada in the agricultural industry, you'll want to read on to learn more about what types of jobs are available for foreigners and which immigration pathways are best for you!
What Agriculture Jobs Are Available in Canada?
Published on June 22, 2022
There are plenty of agriculture jobs in Canada but if we'd list them all, this article would never end! So we've taken the time to search up the top 4 in-demand agricultural positions perfect for foreign workers, just like you!
Immigration Pathways for Agriculture Workers
There are more than 80+ pathways available for you to apply and immigrate to Canada for work. But which ones are the best options for agriculture and farm workers in Canada? We provide three of the best options below:
Option 1: The Agri-Food Pilot
Immigration under the Agri-Food Pilot (AFP) beginning in May 2020 and ending in 2023 was put in place to meet the workforce requirements of Canadian agricultural businesses. If you wish to immigrate to Canada easily as an agriculture worker in 2022, this is the best option!
Non-seasonal work experience in an AFP-eligible position for at least a year is required.
Eligible candidates:
NOC C 8431 – General farm workers
NOC D 8611 – Harvesting labourers
NOC C 8431 – General farm workers
An AFP-eligible position has been offered to you full-time and is not seasonal;
A minimum of CLB or NCLC level 4 in the language requirements
A high school diploma
Have enough money to settle in Canada.
Option 2. The Seasonal Agricultural Worker Program (SAWP)
The purpose of this program is to enable Mexican and Caribbean nationals to live and work in Canada for nine months (the extra month is to allow workers to quarantine – usually valid for eight months).  Do take note, this pathway is listed underneath the "Temporary Workers Program" so it is only suggested for agricultural workers who wish to work in Canada on a temporary basis.
Must be a citizen of one of the 12 participating nations
You were recruited by your government or;
You'll be working for an SAWP company in Canada.
Eligible countries:
Anguilla
Antigua and Barbuda
Barbados
Dominica
Grenada
Jamaica
Mexico
Montserrat
St. Kitts-Nevis
St. Lucia
St. Vincent and the Grenadines
Trinidad and Tobago
Option 3: The Rural and Northern Immigration Pilot (RNIP)
The purpose of this initiative is to assist in the growth of the local employment market in 11 areas across Alberta, British Columbia, Manitoba, Ontario, and Saskatchewan. Instead of being part of The Seasonal Agricultural Worker Program (SAWP), the RNIP recommends to the Canadian government that you seek permanent status from the start.
At least one year of relevant work experience in the last three years, or a degree from a Designated Learning Institution (DLI) in one of the participating communities, is required.
An employer in one of the participating communities has offered you a position on a full-time basis. 
A passing score in any of Canada's language tests.
A high school diploma
Have the financial means to relocate to Canada
List of Participating Communities:
North Bay, ON
Sudbury, ON
Timmins, ON
Sault Ste. Marie, ON
Thunder Bay, ON
Brandon, MB
Altona/Rhineland, MB
Moose Jaw, SK
Claresholm, AB
Vernon, BC
West Kootenay (Trail, Castlegar, Rossland, Nelson), BC
How Much Does an Agricultural Worker Earn in Canada?
In Canada, the average yearly wage for a farm worker is $38,250 CAD, which equates to $19.62 CAD per hour. Entry-level workers may expect to earn up to $39,000 CAD per year in their first year of employment.
For each agriculture occupation, we've provided their average wage per year: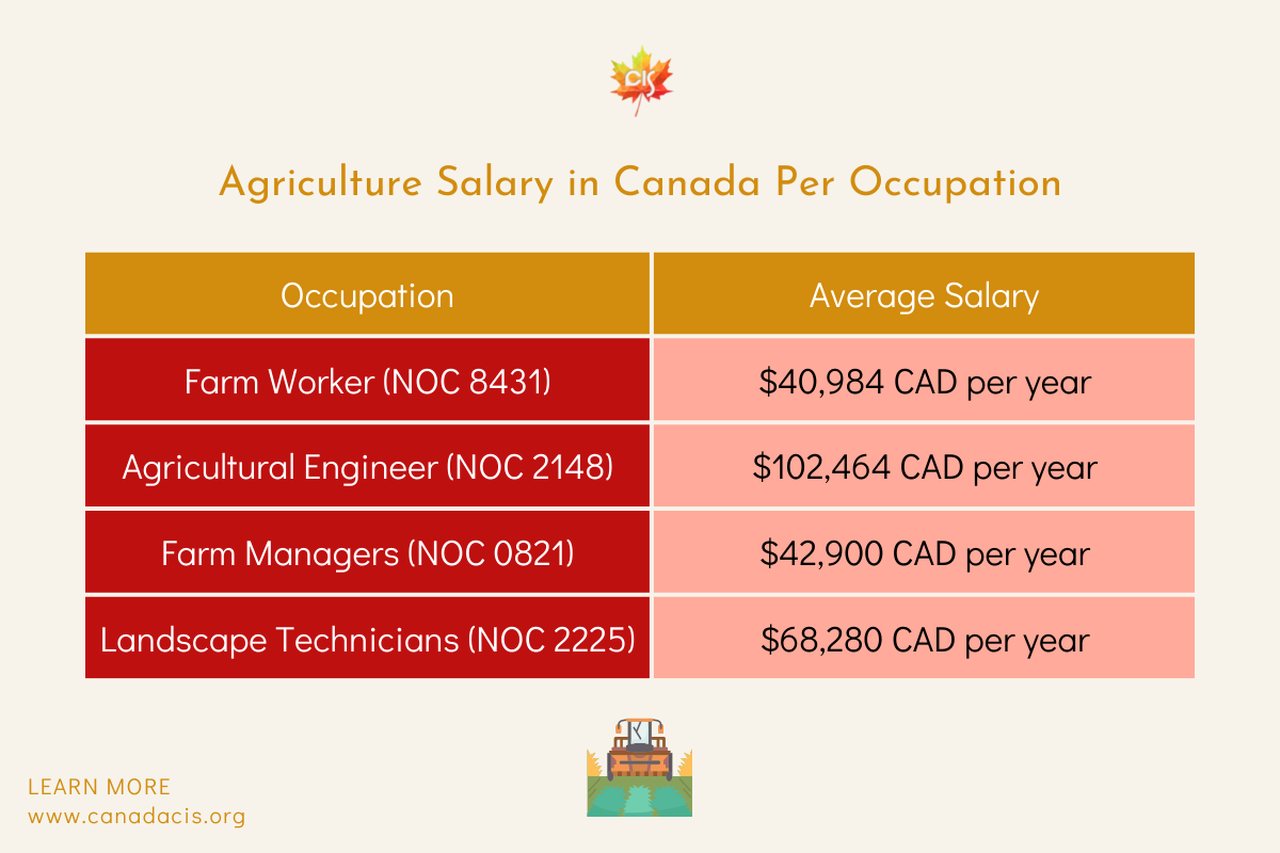 Common FAQs for Agricultural Workers
Which province is best for agriculture jobs in Canada?
In regions like Ontario, Saskatchewan, Manitoba, British Columbia and Prince Edward Island, Nova Scotia and New Brunswick, general agricultural laborers are expected to be in high demand, as stated by Canada's Job Bank.
Is agriculture a good career in Canada?
A farmer job in Canada may be both rewarding and profitable, so there's a lot to think about before making a decision. Picture tractors, animals, and endless fields where you labor long hours for quite a good amount of pay. It's also high in-demand, so you won't have a difficulty finding work in your field!
Is it hard to find agriculture jobs in Canada as a foreigner?
Between 2019 and 2028, there are predicted to be 15,200 new agricultural jobs created as a result of increased demand and replacement.  As a result, we can absolutely guarantee that finding agricultural jobs in Canada will be easy for foreign workers both now and in the future.
Learn more about jobs in Canada: