Immigration to Canada vs the USA: Pros and Cons
Check out the pros and cons of immigration to Canada vs. the US in this short clip!
Both Canada and the United States are popular destinations for those looking to move abroad. But which country is the best for YOU? Well, you won't be able to tell for sure until you've gone and lived there for quite some time. However if this is not possible, you can still make a proper decision with the help of CanadaCIS professionals who have the knowledge and expertise of both countries.
So let's get into it, shall we?
Advantages and Disadvantages of Immigration to the USA
Advantages of Immigration to the USA
In terms of better living circumstances, the United States is a popular destination for immigrants. The country's economy is thriving, and there are several job options available to suit everyone's preferences. Because of the better wages and lower cost of living than in most countries, the United States is the first option for most immigrants.

Ability to apply for a green card, which is recognized as one of the world's most valuable immigration documents
With about 140,000 cards issued a year, the ability to apply for an "Employment-based Green Card" is a great advantage for foreign workers

Ability to apply for US citizenship after 5 years of obtaining a green card
Of course with advantages, come disadvantages. Unfortunately there are several cons we must consider when it comes to Immigration in the USA vs. Canada.

Disadvantages of Immigration to the USA
Due to its value, there are a limited number of green cards available to certain types of immigrants, making it quite difficult to obtain and may take up to several years.



Note:

USA receives roughly

6 million applications for green cards on a yearly basis. 



Limited immigration pathways to permanent resident, or green card status in the United States

Even workers on temporary visas may face challenges obtaining permanent residency. It takes about 4-6 years to receive an employment-based green card.
Advantages and Disadvantages of Immigration in Canada
When it comes to Canada, the country welcomes immigrants in much greater numbers than the United States. This makes the immigration process easier and less time-consuming than the US!
Advantages of Immigration to Canada
Ability to become a permanent resident through over 80+ pathways

There is a pathway for any type of immigration situation, whether it be for work, study, or start-up, family reunification, and more!

Express Entry is a popular immigration process that selects individuals for permanent residency based on experience, education, language skills, and other characteristics through a point-based system, with no way for discrimination, and known for it's fast immigration processing time (less than 6 months).
Compared to the US, the disadvantages of Immigration in Canada are surprisingly lower.
Disadvantages of Immigration to Canada
Expensive price for Canadian immigration, but it's worth saving up for. Consider it a future investment.

The process for applying and receiving Canadian permanent residency or even a work permit can be challenging and lengthy, but never impossible.
It's difficult to understand and manage the Canadian immigration process on your own without an immigration consultant, which is where we come in to save the day! 😉
Do you need help immigrating to Canada?
Sign up and we'll help you!
You are already in our system. Please wait for us to contact you or apply again in 1 hour. For urgent cases send mail to office@canadacis.org
Pros and Cons of Immigration in Canada and United States
Endless Career Opportunities

Booming Economy

Multicultural and Diverse Environment

Access to Great Dine-in, Produce, and Retail Options

Plenty of Natural and Indoor Attractions

Large Spaces
High taxes

Slightly less welcoming to immigrants 

Expensive housing

High crime rates in certain cities

Slow healthcare system

High unemployment rates
Many Job Vacancies for Immigrants

Booming Economy 

High Quality Education

Exceptional Universal Healthcare

Multicultural and Diverse Environment

Cheaper Cost of Living vs. America

Plenty of Natural and Indoor Attractions

Best Quality of Life in The World 

Low Crime Rates
Harsh winters

Limited transportation options in some provinces

Housing can be expensive

You may need to learn French in some French-speaking provinces
Want to know the total cost of living in Canada vs. USA? See for yourself!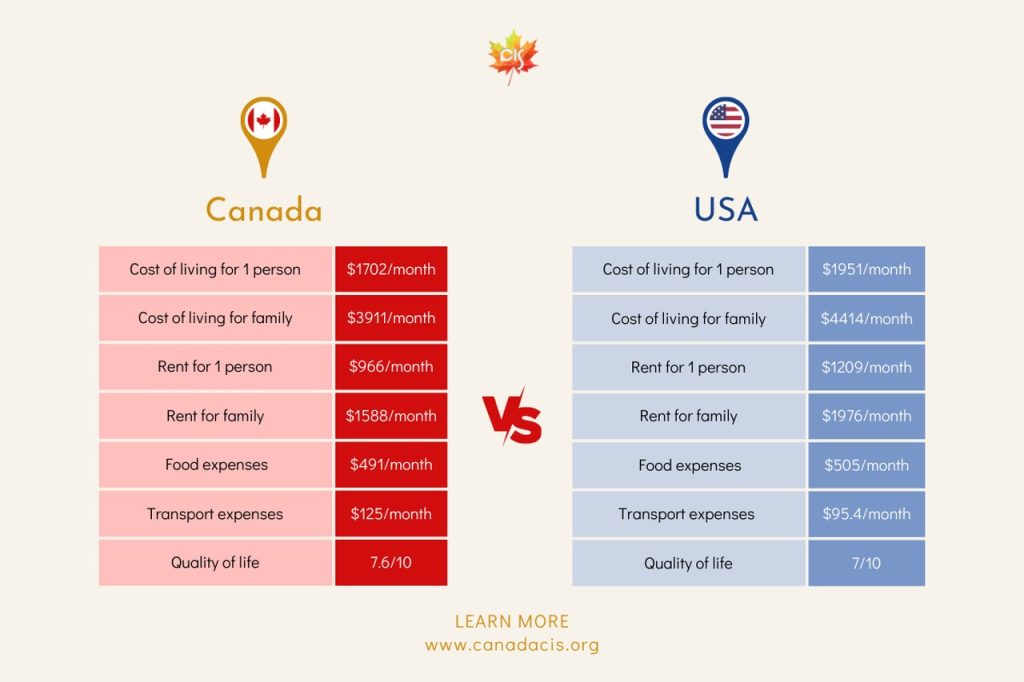 Why do immigrants prefer Canada over the US?
Overall, foreigners choose Canada because it is simpler to immigrate than the US. The country has more immigration pathway options, an online immigration system that prevents discrimination, it takes less time to process your application, and so much more!
So what's it going to be? Now that you know more about the differences between Immigration in the USA vs Canada, it's now time to decide. In the end, it is entirely up to you, and we'll be happy to help if you choose the road to Canadian immigration. Best of luck!
Learn more about immigration to Canada: