Family Immigration Canada: Moving with Children
yearly immigrants in Canada are children
Statistically speaking, 20% (50,000) of immigrants who enter Canada each year are children 15 years of age and below. About 15% of all immigrant children and youth are considered refugees, with about 1500 to 2000 brought in through international adoption.
In addition to this, 98,383 international students have arrived to study in Canada since 2011. It is common for Canada to accept immigrant children and welcome every one of them with open arms.
Published on September 26, 2023
📝 Best Child Sponsorship Programs Options in Canada
There are two ways children can become a Canadian permanent resident and citizen, such as:
Family Sponsorship
Express Entry
Family Sponsorship
The Family Sponsorship program is a popular way to bring your child to Canada. 
If you or a relative is considered a Canadian citizen or permanent resident, they can help the chosen dependent become a permanent resident through this program by sponsoring them.
Express Entry
☑️ Requirements to Sponsor a Child for Canadian Immigration
For future and current sponsors who wish to bring their children into Canada, we've listed down a few qualifications and requirements you'll need to consider:
The parent should be a Canadian citizen or permanent resident and at least 18 years of age.
You must agree to provide for all the dependent's basic needs by signing and agreeing to provide financial support once the child becomes a permanent resident.
Sponsors will need to stay in Canada along with the child as long as they are permanent residents. 
Canadian sponsors should file a sponsorship application.
Note: Once your child becomes a permanent resident, you can apply them for Canadian citizenship.  

👶 Child Requirements to Be Sponsored for Immigration to Canada
As for the child, there are specific requirements they must meet. Here are some things you will need to consider for them to be approved as your dependant:
The child should be under the age of 22 without a spouse or common-law partner
The child is 22 years old or older, but they are financially, physically, or mentally incapable of supporting themselves
The child should be your own for them to be eligible for your sponsorship
If you have a child from your spouse who isn't yours, the only way to sponsor them is by sponsoring your spouse as well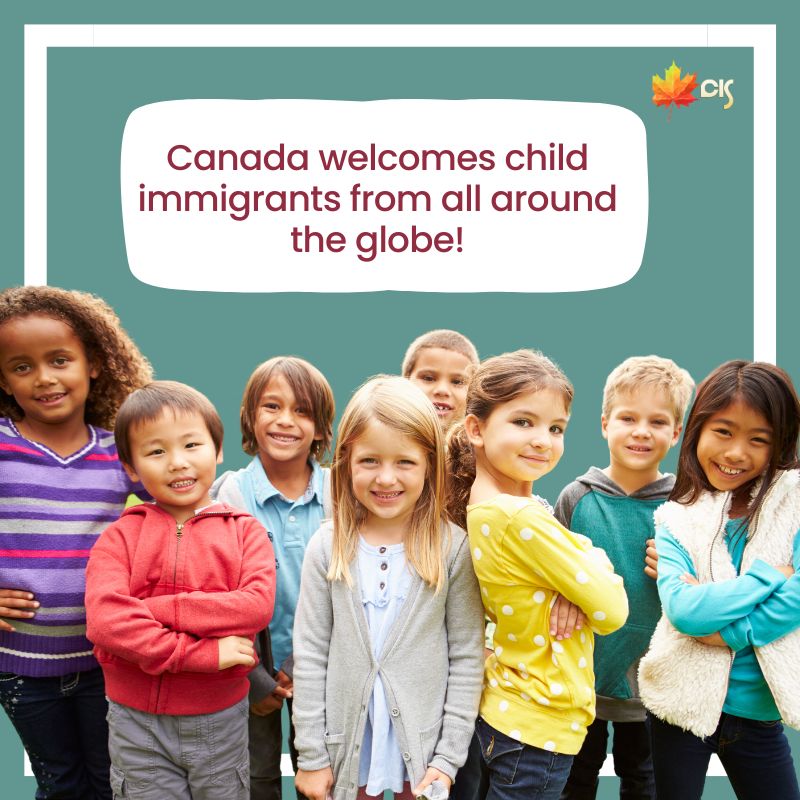 💰 The Cost of Raising a Child in Canada in 2024
Raising a child, let alone raising a child in a new country, is one of the most challenging things.
The responsibilities, the effort, the money, and the time spent on just one child is a huge commitment each parent should be willing to take.
Before packing your bags and taking that next one-way flight to Canada with your little ones, we'd like to give you an estimate of how much it will cost to take care of your child in Canada.
Note: The total price stated above includes food, supplies, and educational expenses.
🛫 Moving to Canada with Children: What to Bring
Once your Canadian visa has been approved, there's nothing else left but to get ready for your move!
We know the struggles of being a parent, and sometimes the preparation process of each move, whether out of town or out of the country, with children can be quite a hot mess.
So we've decided to lend a helping hand by prepping you in advance on what you'll need to bring before your arrival to "The Great White North."
Bring your child's most precious toys, books, other cherished items (trust us, you'll need it more than they do)
Pack good winter clothes, including mittens, warm hats, and scarves
Valid passports of visa holder and all dependents. Children are also required to present any proof of identity, such as a birth certificate
Work permit (if necessary), Evidence of travel insurance, Address of your accommodation, Drivers license and other forms of valid government IDs
🛬 Arriving in Canada with Children: What to Expect
After passing through immigration and customs, you can finally say that you've made it to Canada with your loved ones! 
So what's next? CanadaCIS has come up with a list of what to expect and the steps you should take during the first few weeks in Canada.
Expect to do a lot of researching and working on the administrative tasks in the first week.
Social Insurance Number
Familiarize yourself with the place
Try numerous activities
Culture Shock
Socialize
Social Insurance Number
Make sure to apply for your Social Insurance Numbers (SIN) and figure out what local schools or universities you'd like to register your child at.
Familiarize yourself with the place
Try numerous activities
Culture Shock
Socialize
Heading to Canada with your children and staying for good is no joke. But with the help of immigration consultancies, you can make sure that your application process goes smoothly so that you can spend more time with your children and less time on immigration requirements. This can easily be done by reliable and top-rated Canada immigration experts such as CanadaCIS.
❓ Commonly Asked Questions About Bringing a Child to Canada
Learn more about Life in Canada